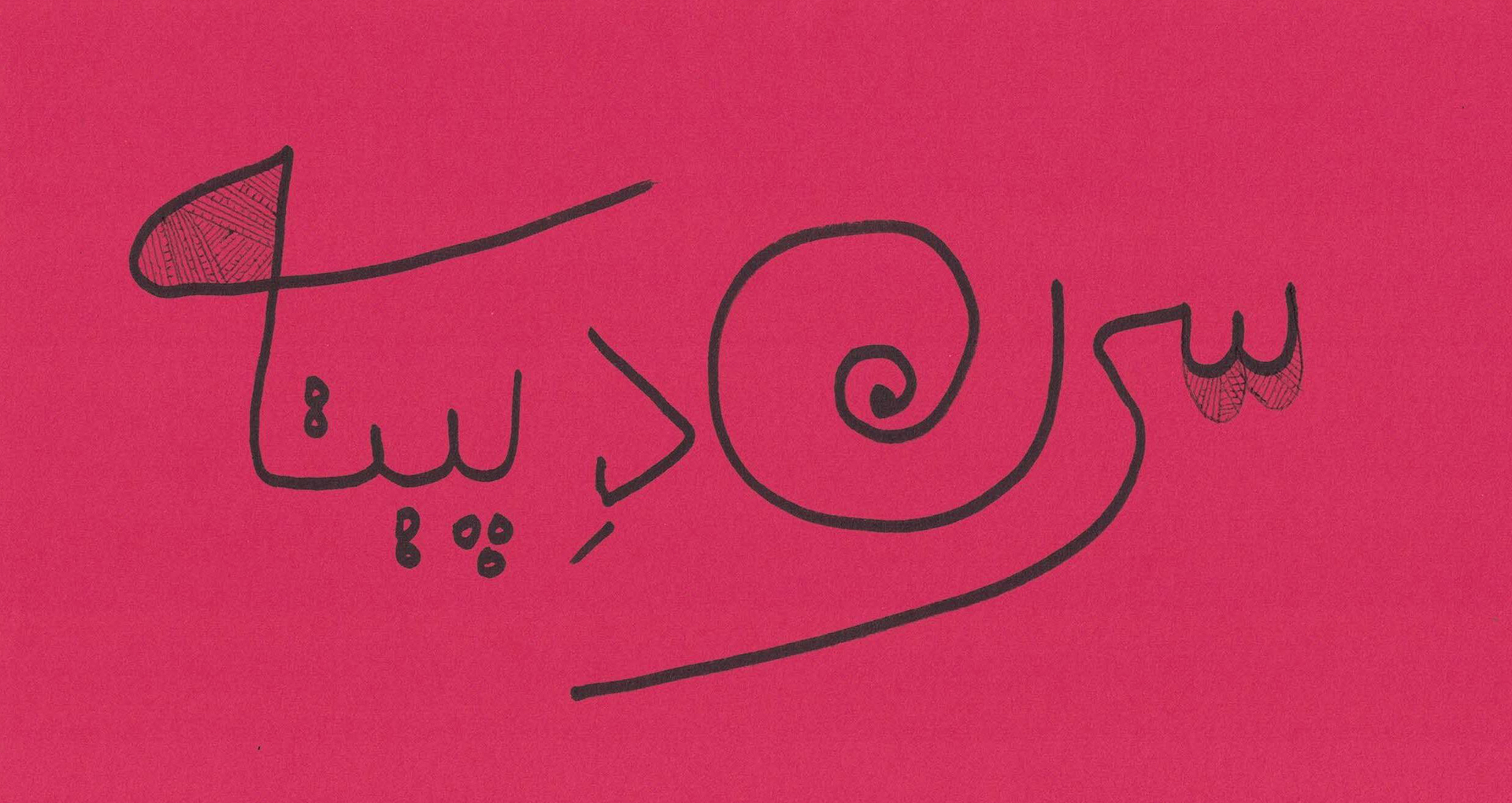 © Khosro Berahmandi, Sérendipité, 2017
Serendipity
Exhibition / Installation
From May 12 to 20, 2017
MAI, Montréal
Amir Amiri, kimura byol – nathalie lemoine, Gabriel Dharmoo, Yuki Isami, Hadi Jamali, Ivetta Kang, Hazy Montagne Mystique, Showan Tavakol, Alisi Telengut, Paul Tom, Lamia Yared
Opening reception : Saturday, May 13, 2017
From to 2pm to 4pm
3680, rue Jeanne-Mance

Vidéographe and Festival Accès Asie, in collaboration with MAI (Montréal, arts interculturels), present this year's edition of Serendipity. This project highlighting the artistic contributions of Asian-origin communities in the cultural life of Montreal and Quebec.
Serendipity evolved from a chance encounter of several artists. Seeking to promote diverse voices and discourses in image and movement, this project brings together musicians and composers with videographers to reflect Quebec's Asian diversity.
Serendipity presents emerging art forms, incubates new ones, and creates art image and sound projects from mono-band videos to unedited video installations.
_______
Artists biographies
Paul Tom is a filmmaker and video editor specializing in animation and documentary film. He's also a professional editor, curator of museum video exhibitions and a facilitator of many cultural mediation projects in diverse communities. Born of Cambodian parents in a refugee camp in Thailand, he approached the themes of the construction of identity, family relations and the exploration of silence as a means of communication.
A native of Japan, Yuki Isami – flutist – first discovered the world of music through piano at the young age of four. After winning first prize from the Tôhô Gakuen College of Drama and Music of Tokyo and the Conservatoire de Musique de Montréal, Yuki continued her musical career as a flutist. She has performed for several orchestras (e.g. Orchestre Métropolitain du Grand Montréal, Orchestre Symphonique de Québec) as well as at festivals in Japan, Canada, Argentina, USA, and Europe. Yuki is presently undertaking several projects associated with Japanese culture and music through the use of traditional instruments such as Shinobue, Shamisen and Koto. Most notably, Yuki has collaborated on "Musique japonaise : Branches et racines" and Tsuki, a visual musical tale from Japan.
Originally from South Korea, Ivetta Sunyoung  Kang makes cinema, videos, and visual performances. She creates fragmented narratives within audiovisual languages, using mostly lo-fi images, metallic sounds, ruptures of different spoken languages, and handcrafted superimposition. She generates abstract audiovisual from the obvious and transforming it into the concrete triggering spectators' imaginations. She studied fiction cinema in South Korea and recently graduated from the MFA program at Concordia University. Her films and videos have widely been screened at various festivals.
Gabriel Dharmoo's musical practice encompasses composition, vocal improvisation, and academic research. His works have been performed and presented across Canada and internationally. Dharmoo has received numerous awards from the Canada Council for the arts, the SOCAN and different live-arts festivals such as Summer Works Performance Festival and the Amsterdam Fringe Festival. His mestizo identity (Quebecois from his mother, Caribbean with Indian roots from his father) led him to study carnatic music with four well-known maestros in Chennai (India) in 2008 and 2011. Since then, he has explored the interaction of the traditional with the new and the notion of imaginary folklore.
Hadi Jamali is a Montreal based Iranian artist. He graduated from the University of Science and Culture (Tehran) with a degree in Visual Communication-Studio Arts. Since 2003, he has worked as creative director and visual designer for a number of institutions as well as pursuing his experimental freelance work. He now dedicates his time to multidisciplinary art practices including video, installation and photography. His current works involve defamiliarizing everyday objects to capture how people today relate to their surroundings.His recent video work, The Marathon of Remain is now part of the Arsenal Gallery collection.
Amir Amiri was born in Tehran (Iran) where, in his early years, he studied the santur, a stringed instrument very popular in classical Persian music. He also studied classical Indian music with the masters Ravi Shankar and Nusrat Fateh Ali Khan. Arriving in Canada in 1996, Amiri participated in a residency at the Banff Centre of the Arts, a place of inspiration he has returned many times. Amiri has since worked extensively as a percussionist, composer, musical director, and consultant for numerous Canadian dance and theatre companies, as well as orchestras, and in television and film.
Born in Tehran (Iran) Showan Tavakol began his music studies playing the violin and later turned to the Kamancheh (Iranian bowed string instrument). Tavakol earned a music degree in ethnomusicology and composition. He is now composer-in-residence of l'Ensemble du Choeur de Trombone and Le Grand Ensemble Contemporain at the University of Montréal. Tavakol also composes music for documentaries, short and feature films, and plays Kamancheh in the contemporary Iranian ensemble Kamaan. He has several albums to his credit.
Alisi Telengut , is a visual artist and filmmaker currently based in Montreal. She creates frame by frame animation using hand-made painted visuals to generate movement for her films. She is interested in notions of visual poetry, lyrical representations of memory, and experimental ethnography. Her recent films received awards at Stockholm International Film Festival, Montreal World Film Festival and Canada International Film Festival. Her films have been screened at Sundance, TIFF, Cannes (Talent tout court program), Slamdance, Edinburgh, ZINEBI and in many film festivals and world exhibitions of animation and moving images. Her work has contributes to ethnographic, ethnocultural and archaeological research archives.
Lamia Yared was born in Lebanon and grew up in Montreal. For ten years, she has been singing and exploring Mediterranean and Middle Eastern music culture. She has specialised in the repertoire of Levantine music and studied with singers from Syria, Lebanon, Greece, Turkey, and Egypt. With her collective group, Ensemble Zaman, she has been performing repertoires written by Syrian and Egyptian composers from the Ottoman period. She has performed for a variety of Festivals such as Festival du monde arabe, Festival des cultures Syriennes de Montréal, Festival des Traditions du monde of Sherbrooke, and Maisons de la culture.
Nathaniel Huard  percussionnist – discovered Arabian percussions more than 10 years ago. Having studied the popular rhythms of the Darbuka with Trevor Salloum in British Columbia. He then discovered the Riqq (Arab tambourine) and classical Arabic music studying with the master Michel Merhej Baklouk, Lebanese percussionist of the Rahbani Brothers and the Singer Fairouz. It was in Aleppo, Syria, that he first heard the Muwashahat, a form of sung poetry, and learned Arabic music with complex rhythmic phrases. Nathaniel Huard is very active on the Montreal music scene, combining Arabic music with Turkish, Persian, Greek and Jewish music, with groups such as Ensemble Zaman, Ensemble Al Zahawi, Essence Yéménite, Ana Masri, Amir Amiri and many others.
kimura byol-nathalie lemoine was born in South Korea from a Korean mother and Japanese father. kimura-lemoine, a conceptual multimedia feminist artist, creates works about identities – diaspora, ethnicity, colorism, post-colonialism, immigration, gender – in calligraphy, painting, digital imagery, poetry, video, and photography. kimura-lemoine has exhibited, screened, and published her works internationally. As a curator, kimura-lemoine has developed projects that give voice and visibility to minorities. She currently works as an activist archivist on the ACA (Adoptees Cultural Archives) documenting the history of adoptee culture through media and arts.
Chittakone Baccam is a sound artist born in Thailand of Laotian and Taï Dam origin. He has been working in the experimental music scene since 2008 and is constantly exploring new sounds. In 2010, he co-founded the label Jeunesse Cosmique and is currently its artistic director. In 2012, Baccam began Hazy Montagne Mystique, a sound vision project exploring what happens when we closes our eyes. His Laotian background infuses his music. A very active artist, he has extensively performed in shows and festivals, and collaborated with numerous artists, such as Alain Lefebvre and Guillaume Vallée. He has released a number of albums and received several awards for his work.
Acknowledgments
Vidéographe and Accès Asie Festival would like to thank the Canadian Council for the Arts for its support.