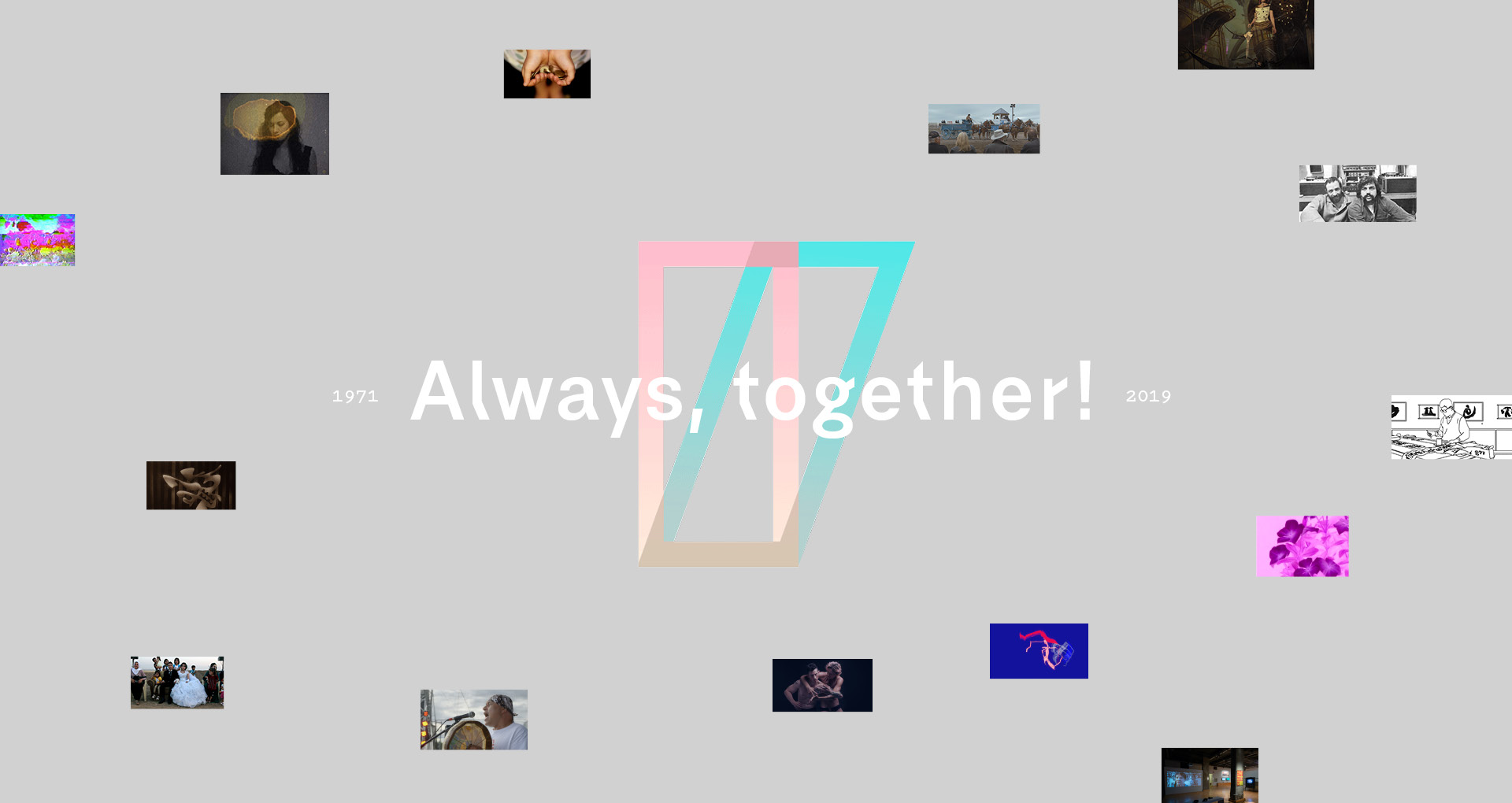 Together, always!
FUNDRAISER CAMPAIN
November 8 - December 31, 2019
Since 1971, Vidéographe has been a prolific artist-run centre in which artists of different generations and backgrounds have gathered, experimented, supported and taught each other. Bold and socially engaged, you members, friends and partners have forged its vision and values. We warmly thank you for your contribution to the Centre's development and to the vitality of its community. We are extremely proud to share this history with you.
For nearly 50 years, the Centre has distinguished itself through its leadership, its collaborative spirit, and its ability to anticipate and adapt to changes in its milieu in order to support artists the best way possible.
In this spirit, over recent years, we have developed new approaches to showcasing works by the 800 artists that we distribute. New residency programs have been established to support research and creation, as well as mediation programs, through which we share our passion with adolescents and young adults.
Over the next year, our new digital publications will celebrate the work of artists and pay homage to key figures in moving image practices.
In order to continue to carry out our mission with vigour, we need your help. Your support is testimony to your renewed commitment to Vidéographe and to our shared values. We accept donations by cheque, cash, debit and credit cards, and paypal as well as via our page CanaDon. As Vidéographe is a recognized charity, tax receipts will be issued to you for all donations over $20.
Always, together! This is an invitation to renew your commitment to Vidéographe so that the coming years can be as inspirational and visionary as those that we have already shared. We hope that you can lend your support and help us to realize our ambitious goals, which are entirely driven by a desire to support artists and rooted in a love for the moving image.
May our community continue to resonate, for a long time to come.
For further information, please contact us
► on the Facebook event
► by email at info@videographe.org
► by telephone on (514) 521 2116 ext. 221
Vidéographe is a registered charity recognized by the Canada Revenue Agency (105531255RR0001).
All donations will be published in our communications and on our website unless you wish to remain anonymous.