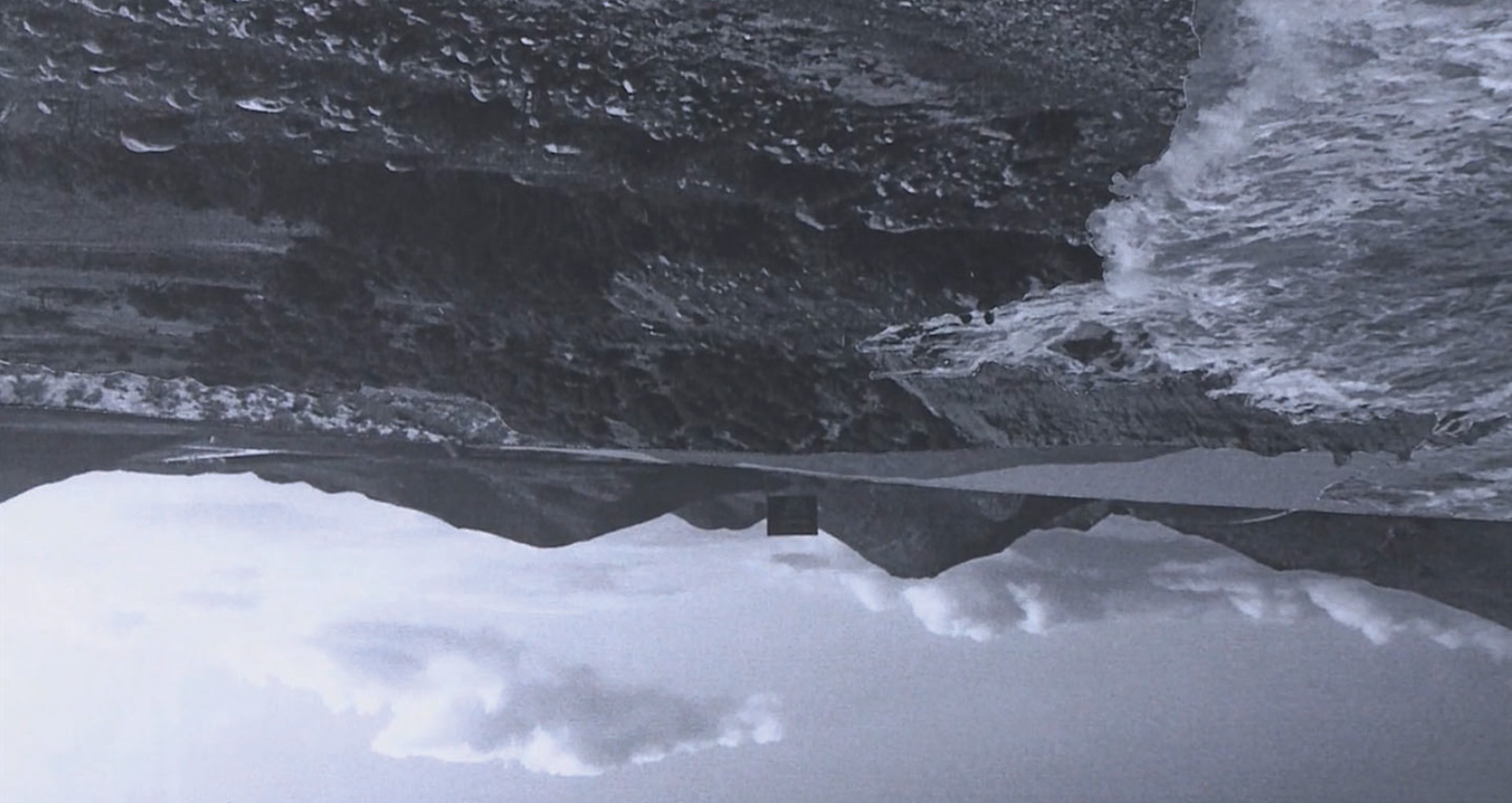 © Magda Gebhardt, Atlas
ART VIDEO TRIANGLE
Workshop
Thursday November 5th 2015, 7pm
Vidéographe
With : Magda Gebhardt, Christian Niccoli, Ailbhe Ni Bhriain, Una Lorenzen, Dodda Maggý, Kévin Senant, Kristín Scheving, Ásdís Sif Gunnarsdóttir and Steina
Vidéographe presents Art Video Triangle, the second installment of a partnership initiated in the spring of 2015 with the Breton Festival Oodaaq  and the Icelandic Festival 700IS Reindeerlan .
This outstanding selection of experimental videos from the other side of the Atlantic is focused around the ideas of creation, identity, territory, and blends the legendary desert landscapes of Iceland with mountains and audio/video diversions pulled from the Web, and show the diversity of points for the European video creation today.
The evening begins with the Oodaaq programme from Brittany, followed by, after a brief pause, the Icelandic programme A glimpse of memory.
PROGRAMME
The OODAAQ selection offers a glimpse of the experimental video programming presented during their 5th edition. A disparate group of works that can be read on many different levels, they represent well the diversity of points of view that can be found on the island of Oodaaq.
UNTITLED by Christian Niccoli (Italy, 2013, 4min10)
A man is dropped off by helicopter in the middle of an Icelandic desert landscape. Between absurdity and sobriety, this video is an existential questioning, a metaphor for the moment in life when we propel ourselves.
ATLAS by Magda Gebhardt (Brazil, 2013, 8min)
A one-take sequence of landscapes during which the process of creation is revealed. For the artist, these gestures of superimposition and layering are similar to those of the painter, a parallel which recalls the birth of the landscape genre.
WINDOW by Ailbhe Ni Bhriain (Irlande, 2013, 10min03)
Combining camera work with synthetic imagery the filmmaker links spaces within well-played formal associations. The results are hermetically mysterious videos filled with poetry and dream-like qualities.
IRRIGATION by Kévin Senant (France, 2009, 5min28)
This video mixes excerpts of home movies, commercials and Youtube videos. The artist questions our stand/position/view of these images, and the content they convey, making us the "watchers watched", a reminder of the Lumière brothers' film "L'arroseur arrosé".
700IS REINDEERLAND – A glimpse of memory
"Coming from Iceland where nature plays a big role in most people´s memories, as we are still so few, sharing this island, there is space for wilderness that echoes in many people´s memories and their feelings of the territory." Kristín Scheving, director of the organisation.
Elevator girls by Steina (1989, 04min15)
The elevator is used as a metaphorical device, to reveal an outsider's gaze into contemporary Japanese culture.
In the crack of the land by Una Lorenzen (2009 8 min)
A film inspired by a walk in the Icelandic highlands, Kárahnjúkar. Today the vast amount of land has turned into a giant reservoir.
Laugarvatn by Ásdís Sif Gunnarsdóttir (2009, 6min40)
The artist is known for her performances that take place in unconventional places and her video installations consisting of three dimensionality and visual psychedelic poetry.
Margrét by Dodda Maggý (2005, 3min30)
Portrait of a miniature female character who spins around following the rhythm of the music, like one of those pirouetting ballerinas in a wind-up music box.
Repeating feeling by Kristín Scheving (2015, 3min30)
This video is a story of a person´s way to deal with the multiple layers inside oneself.

Oodaaq is an island northeast of Greenland, discovered in 1978. This bank of gravel and silt, long time said to be the most northern emerged land on earth, is drifting and impossible to localize nowadays. Leading an existence somewhere between reality and imagination, the island of Oodaaq has become an image, far-off and utopian, inviting us to glance at the horizon in order to see it appear.
700IS Reindeerland is a yearly experimental film and video festival, held in Iceland. The focus has been on experimental art, with a special interest in video, sound art and experimental film.