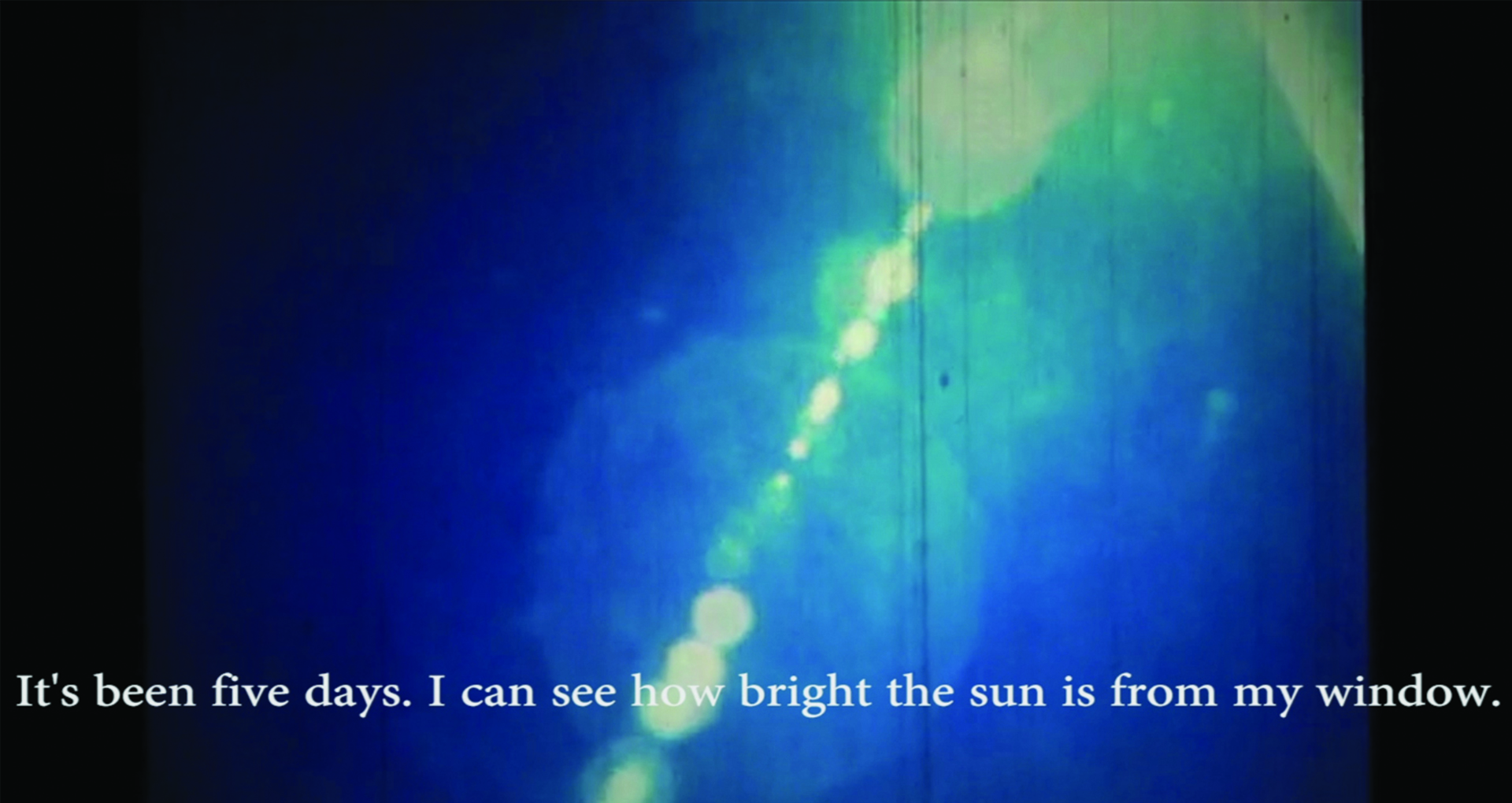 © Nayla Dabaji, out of the corner of my eye, 2015
Nayla Dabaji
Reconstructions
Screening and discussion
Wednesday, November 15, 2017, 7pm
Dazibao, Montreal
Free
5455, Gaspé av., #109 (RC), Montreal
Free entry. Limited seats.
Booking+
As part of the third dv_vd screenings, a fruitful collaboration between Vidéographe and Dazibao.
Nayla Dabaji presents a selection of videos and visual art works/installations that are representative of her artistic process. Some of these works are individual projects, while others have been produced in collaboration with Ziad Bitar, an artist who, like her, studied art in Lebanon and moved to Montreal in 2011. The visual arts projects often employ narrative, dialogue, or testimony: climbing Mont Saint-Hilaire after having pinpointed it on a map; following the Daebudo tide by bike; imagining carrying the ceramic tiles of her Beirut studio; imagining following in the footsteps of Buster Keaton; talking to passers-by in Seoul about loudspeakers that no longer existed; collecting painful stories and then trying hard to forget them.
The selected videos offer contemplative reflections on migration, the accidental, landscape, and travel: a character recounts his vain attempts to cross the border that he / she survives miraculously every time; a journey to find answers through a contemplation the sea; the surreal movement of words through time and space; thoughts and images emerge from her mind then fade away in the corner of the screen. These works are journeys in themselves; we feel their movement, like breathing, and a great deal happens in the artist mind's eye or that of the viewer.
PROGRAM
Presentation of visual art works
Wearing a place, 2014
Who said that something happened?, in collaboration with Ziad Bitar, 2006
A road into the sea, 2010
Gratter le ciel par la racine/Km.0, in collaboration with Ziad Bitar, 2017
Projection (34 min)
Waves, 2 min 29 s (excerpt), 2014
Interval, 8 min 20 s, 2014
out of time, temps morts, 5 min 16 s (excerpt), 2015
Rumors, 8 min 34 s, 2015
out of the corner of my eye, 3 min 15 s, 2015
Km.0, realized with Ziad Bitar, 6 min 22 s, 2017
Biographical notes
Nayla Dabaji was born in Beirut and holds a diplôme d'études supérieures in Fine Arts from the Lebanese Academy of Fine Arts (ALBA). She works with a variety of mediums ranging from photography and installation to performative actions, texts and weaving. After living in Cameroon, France and Lebanon, she moves to Québec in 2011 and develops an interest in video art while studying Intermedia/Cyberarts at Concordia University. Her videos, distributed by Vidéographe, have been screened at festivals such as Les Rendez-vous du cinéma québécois, the International Festival of films on art, Instants Vidéo, the Stuttgarter Filmwinter and Vidéoformes. Aside from her individual practice, she works in duo with Ziad Bitar. Their work has been shown in various galleries, institutions and art spaces such as Vu Photo in Quebec, Artsonje Center in Seoul, Gertrude Contemporary in Melbourne, the Townhouse Gallery in Cairo and Espace libre in Biel. nayladabaji.com