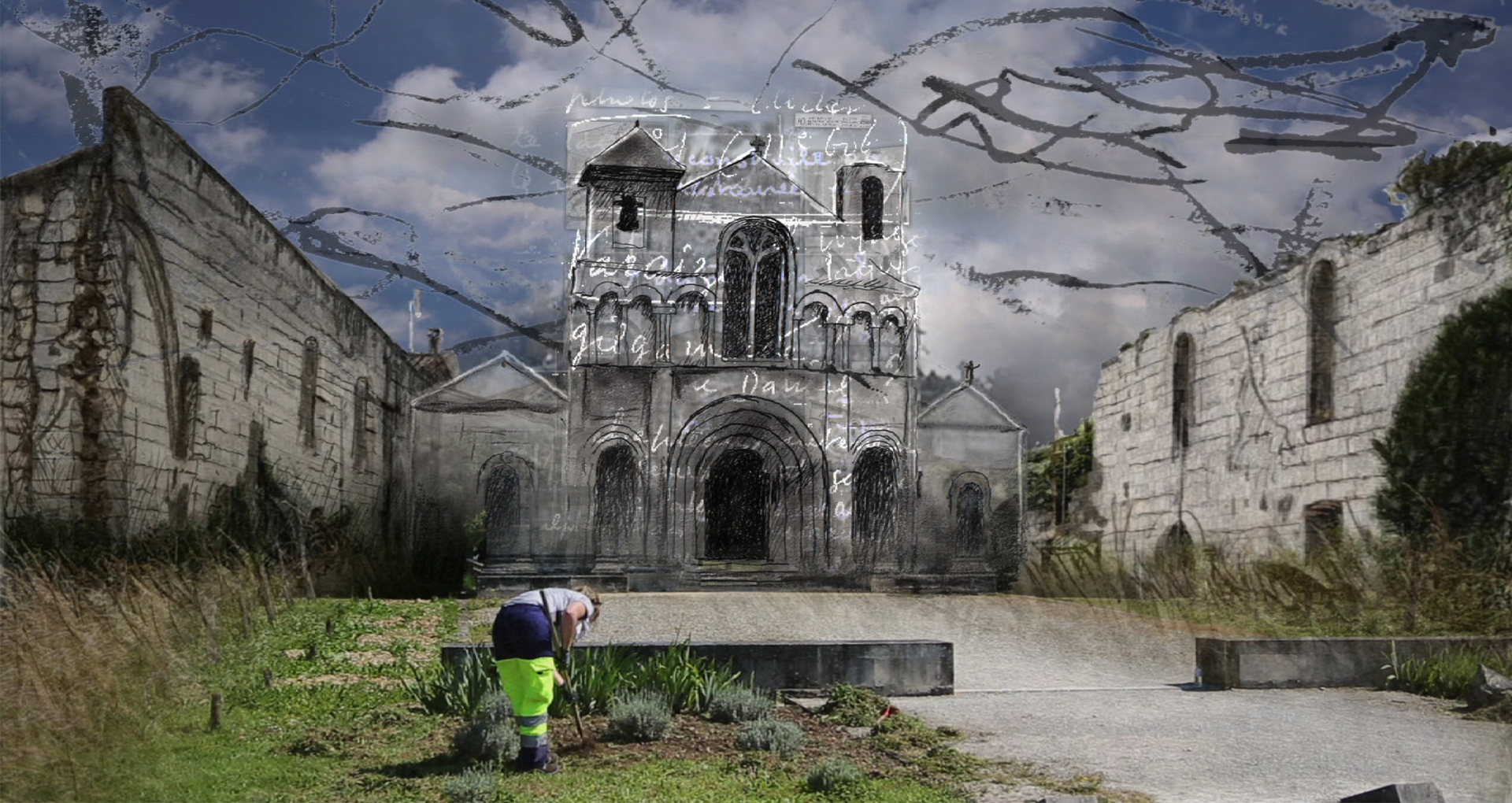 © Pierre Hébert, Le Film de Bazin, 2017
Documentary release
"Le Film de Bazin" by Pierre Hébert
Screening
May 5-11, 2017
Cinémathèque québécoise, Montréal
Friday, May 5: 5:30pm
Saturday May 6 and Sunday May 7: 6pm
Monday 8 to Thursday May 11: 6:30pm
Preceded by the screening of John Cage-Halberstadt
Vidéographe is pleased to announce the release of the new documentary essay by Québec filmmaker Pierre Hébert Le Film de Bazin, the eighth part of the series Lieux et monuments. After a world premiere at the 35th International Film Festival on Art, Le film de Bazin will be presented to the Montreal public at the Cinémathèque québécoise via its Art et essai section.
Pierre Hébert collaborated with philosopher Marianne Dautrey and the academic Hervé Joubert-Laurencin, the story is carried by the voices of Michael Lonsdale and Sharif Andoura, and by the music of Robert Marcel Lepage.
Le Film de Bazin is a documentary essay in which drawing and animation have an important and unusual role. Its genesis comes from a project of film by the famous French film critic André Bazin on the Romanesque churches of Saintonge, which was never achieved after its disappearance in November 1958. Therefore it is a film on a never realized film, and on the time that has passed since its initial writing by Bazin.
Biography
Formerly an employee of the National film Board of Canada where he directed over twenty animation shorts and a feature (La Plante humaine, best Quebec feature award 1996), Pierre Hébert is now an independent artist and filmmaker. Since 2001, he traveled the world with different musicians to present live animation performances. He equally collaborated with choreographers, published books and articles on cinema and animation, and pursue a carreer as a visual artist. His current project is a new series of films Places and Monuments for which he received the prestigious Conseil des arts et des lettres du Québec "career grant" for cinema. In 2005, he was the recipient of the "Albert Tessier" cinema award from the Quebec government for lifetime achievement. pierrehebert.com

A part of Pierre Hébert's corpus of works is distributed by Vidéographe and has been integrated to its collection.

Please also note:
SCRATCH-2 from 28 April to 4 June 2017,
Exhibition at La Cinémathèque québécoise, Salle Norman McLaren
A video installation by Pierre Hébert, with musical fragments by Malcolm Goldstein (violin) and John Heward (drums).