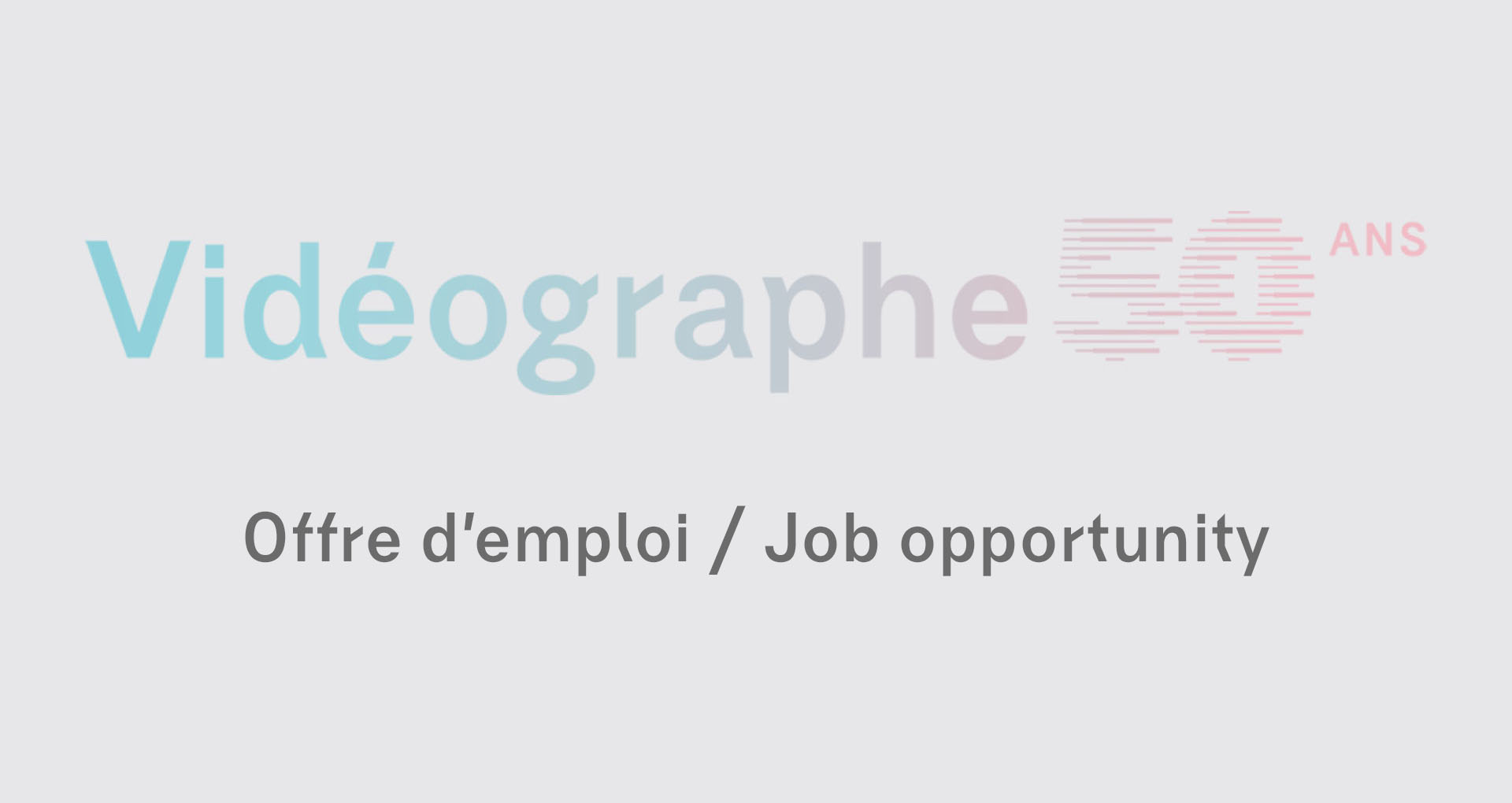 Job Offer – Sales and Festivals Manager
Job offer
Deadline to apply : October 1st, 2021
Vidéographe
Vidéographe is an artist center dedicated to the research and dissemination of experimental forms of the moving image. We distribute short, medium, feature films and video installations by independent artists from Quebec and abroad. Vidéographe is active in the commercial, educational and institutional markets.
Vidéographe recognizes the richness of Quebec's cultural, sexual, identity, and linguistic diversity. We, therefore, encourage people from traditionally underrepresented groups, minorities, or marginalized groups to apply.
JOB DESCRIPTION
The Sales and Festivals Manager reports to the Curator and works closely with the Distribution team to ensure the rental, sale, and visibility of works for distribution in all markets.
DESCRIPTION OF TASKS AND RESPONSIBILITIES 
DISTRIBUTION: 
In collaboration with the team and the artists, contribute to the development of distribution strategies.
Submit works to festivals and other relevant distribution events.
Manage online submission platforms and regularly update them (for example Whitoutabox, Filmfreeway, Shortfilm depot, Festhome, etc.).
Ensure the sending and follow-up of the necessary promotional material and projection files either by internet (FTP, Wetransfer, Dropbox) or by mail to individuals or markets who have selected work from the collection.
Ensure and develop the promotion and sale of works in different markets such as television, museums, libraries, educational institutions, galleries, rooms, VOD, etc.
Maintain pleasant and ongoing communication with the artists in distribution.
Produce reports on submissions, releases, and sales for artists.
Ensure the posting of trailers and works on the various viewing platforms: Vimeo, YouTube, Vithèque, etc.
Update internal tools (databases, tables, press kits) based on submissions made, broadcasts, sales, and other activities related to distribution.
Ensure the transmission of information relating to the circulation of work to the communications manager.
Collaborate in the production of press kits, posters, and other promotional material.
Create trailers and covers for DVD or Blu-ray, as needed.
Provide general support to colleagues in their sector.
Participate in the drafting of grant applications and reports related to his sector.
Perform any other related task as required by the distribution.
REQUIREMENTS:
Bachelor's degree completed in visual arts, media arts, film, art history, marketing, or any other relevant field.
Work experience in distribution or any other relevant job. Sales and marketing experience or knowledge of the art market is a strong asset.
Knowledge of independent media arts in Quebec and Canada, and of the distribution of video and installation works nationally and internationally.
Very good computer skills and databases.
Proficiency in image processing software (Final Cut Pro, Premiere, Photoshop), codecs, and delivery platforms is an asset.
Fluency in French and English, spoken and written.
Great ability to work in a team.
Great sense of organization.
CONDITIONS OF EMPLOYMENT
Work location: 4550 rue Garnier, Montreal, H2J 3S7
Schedule: 28 hours per week
Compensation: Hourly wage of $ 19.19
Please send your CV and cover letter before October 1st, 2021, by email to info@videographe.org addressed to Charlie Carroll-Beauchamp.
We warmly thank all those interested. Only candidates selected for an interview will be contacted.