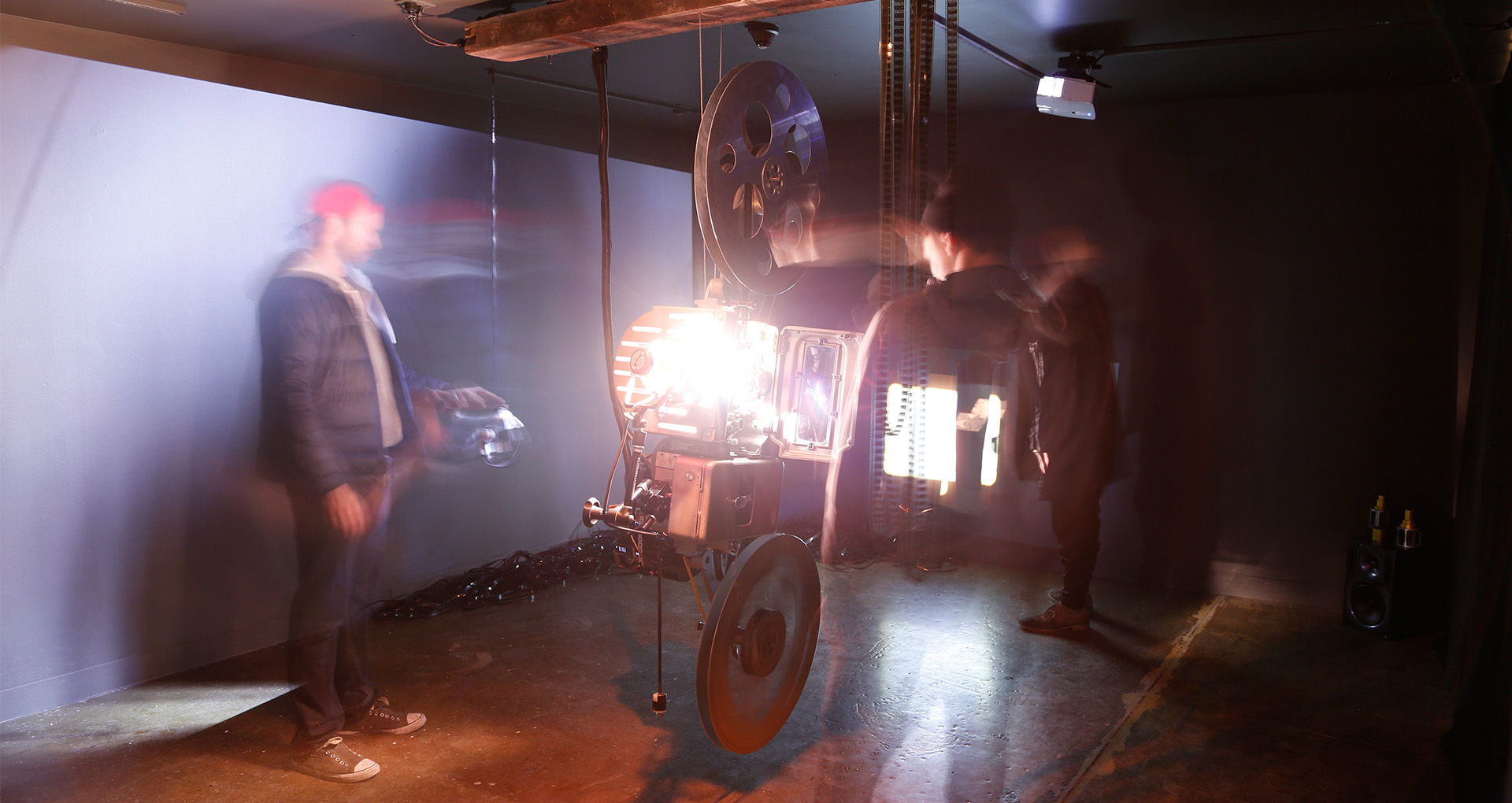 © La Bande Vidéo
LUX by John Blouin
Exhibition / Installation
November 10-20, 2016
RIDM Festival Headquarters, Montréal
Opening and discussion with the artist
Friday, November 11, 6pm-8:30pm
3450, Saint-Urbain Street
For the second year, Vidéographe has to the opportunity to present, in collaboration with the RIDM, the work of artists who are interested in experimentation and in pushing the boundaries of the moving image in all its forms.
As part of the 19th International Documentary of Montreal (RIDM) Vidéographe presents the video installation LUX John Blouin.
LUX
A cast iron 35mm projector hanging in space. Digital lights guiding the way into the secret world of the projectionist's booth. One voice, one trace. This work reveals the poetry and theatricality of the projection process. In the silence of the booth, we are reminded of the dismantling of a crucial era in film history, and of the gradual disappearance of the projectionist. Adding complexity to the story of film and light, it creates sculptural forms, a presence from a past. All affection, no nostalgia.

Biography
During his studies, John Blouin became a projectionist at the NFB. He founded Cabina Obscura, film performances combining 35-16 mm and digital projectors, shadows and live soundtrack. Then he traveled in several cities and festivals, from Montreal to Beijing. John is interested in another side of the picture by making short films as Change Over, Filmstripe and Gate, a trilogy about the death of cinema.
John Blouin has just completed a short documentary with the NFB and Spira, Lou, La Vie ! He is currently in post-production with the NFB for Armand par Vaillancourt, his feature film about the famous sculptor. LUX, a cinematographic installation, is his latest artistic work. cabinaobscura.com