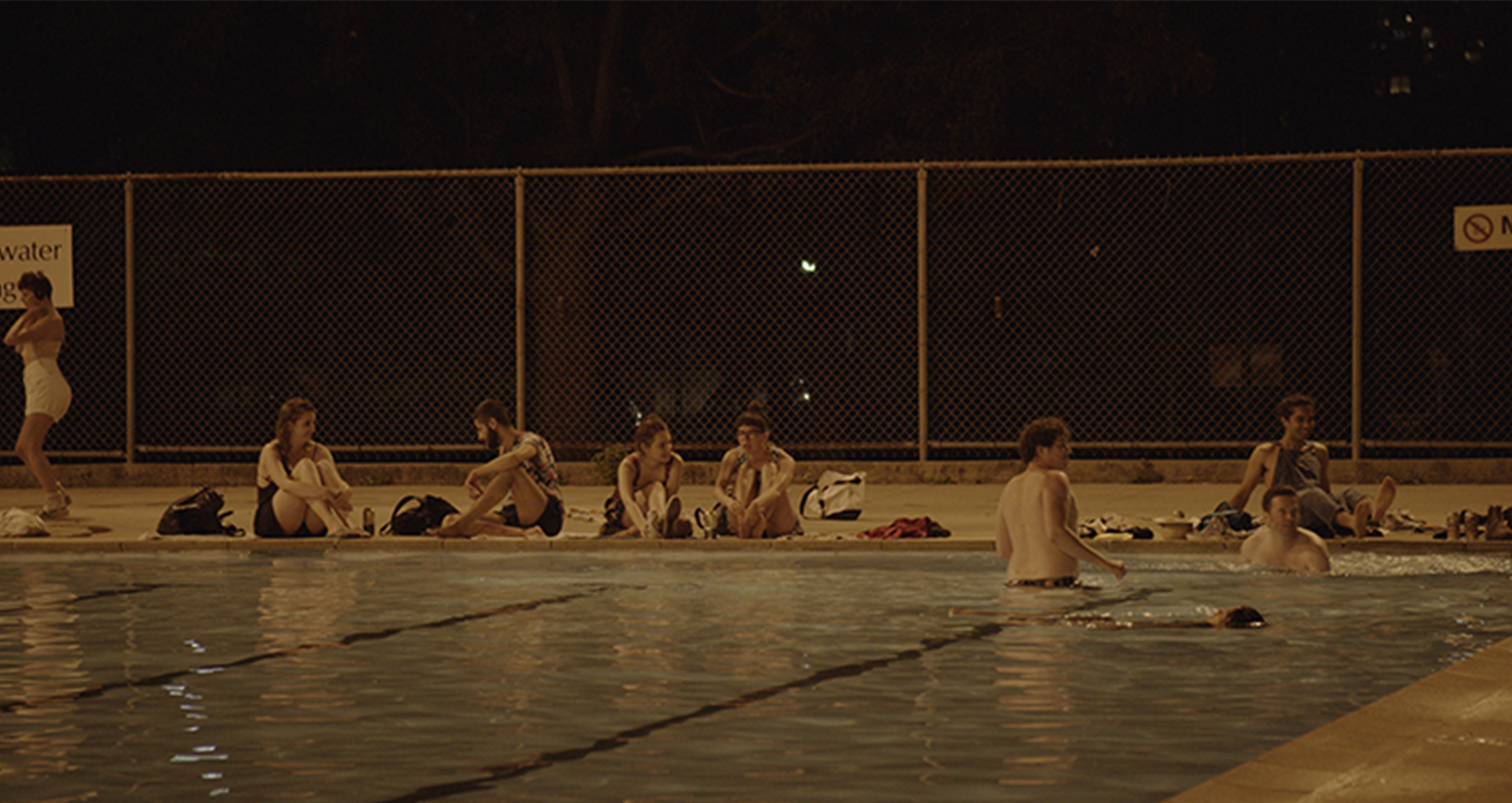 © Marisa Hoicka, Night Playgrounds, 2015
Night Playgrounds
Window Installation
November 19 - December 11
Vidéographe
Place : Vidéographe
Admission : Free
Curator : Maiko Tanaka
Opening :
Thursday, November 19, 7pm,
in presence of the artist and curator
Trinity Square Video and Videographe present a second exhibition together Night Playgrounds by the Toronto artist Marisa Hoicka, curated by Maiko Tanaka. The exhibition will occupy all the ground floor of Videographe, which will be displayed continuously on the exposure period.
Night Playgrounds is a painting and video installation that depicts reenactments of nighttime play at the borders between the private and public. They take place in various urban settings—a public pool occupied after hours, a lush green space dramatically lit by a lamppost, and pink chain link fences suggesting construction zones. Having lived both in Toronto and Montréal, Marisa Hoicka's depicted scenes are inspired by experiences and activities she has observed in both cities. While her experiences in both places are not homogenous, Hoicka has chosen to focus on the commonalities found when communities seize inaccessible outdoor spaces for their own purposes. As the artist puts it, "These young people use the 'privacy' afforded by nighttime of these public urban spaces to break the rules of their intended uses."
The installation uses the boundaries offered by light and night to open windows into these somewhat private moments. The paintings can be seen during the day; come dusk, the videos—shot by an infrared camera—become visible at night. The latter are inspired by the former, intended to function as time-based paintings, or paintings having come to life. Animating the stillness of the digital and material realms is a desire found in many of Marisa Hoicka's works. Through combinations of video and sculptural installation, the artist creates artificial worlds in screens that shift back and forth between the tactile and pixelated. For Night Playgrounds, Hoicka reenacts moments of play and social activity that emerge when people take up outdoor spaces marked as private or inaccessible. She stages the Vidéographe windows as a permeable frame between inside and outside—enticing passersby to come close and take a peek.
The paintings, with their rough brushstrokes and vibrant colours, are inspired by the paintings of Romare Bearden, known for his vivid depictions of informal social spaces of African American life during the Harlem Renaissance. Like Bearden, Hoicka juxtaposes and layers patterns and textures upon patterns and textures, attempting to echo the vivid social lives of the communities she's connected to. Hoicka layers chain link fences with the patterned textiles of her youthful subjects to illicit feelings of inside and outside, permeability, exclusion and the titillation of trespassing.
The bodies in the videos seem neither to be traumatized by the night nor disciplined by boundaries or schedules; they become avatars of secret joys. The fences work both ways: repelling during the day; insulating and sheltering at (and with) the night (which in turn, descending, softly repels the day). Hoicka penetrates this world with an infrared gaze that sees these bodies of light and preserves the distance between them and those of us who have been disciplined and traumatized, so that we can admire them and desire to be them.
As the trend in urban development moves towards the privatization of public spaces in urban centres, and the domain of informal social activity becomes more and more monitored and controlled, these scenes of urban activity point to the possibility of temporary zones of autonomy for exploring new forms of sociality.
Marisa Hoicka is an award winning multi-media artist. Her videos have shown at San Francisco's MoMA, in Berlin, on Air Canada flights and across Canada. She has recently had performative installations at Toronto's 7a*11d International Performance Art Festival, the Power Plant and MOCCA, and has shown at Heritage Canada. marisahoicka.com
Maiko Tanaka is a curator based in Toronto. She has held curatorial positions at Justina M. Barnicke Gallery, InterAccess and Casco and serves on the board of Gendai and the editorial advisory of C Magazine. She is currently the Curatorial Researcher in Residence at Trinity Square Video.
Trinity Square Video is one of Canada's first artist-run centres and its oldest media arts centre, Trinity Square Video aims to meaningfully engage diverse creative voices through its accessible production, post-production, and exhibition support. Trinity Square Video champions an evolving definition of video by presenting challenging contemporary art that inspires its members and audiences to expand their understanding of media art. The Centre strives to create a supportive environment, encouraging artistic and curatorial experimentation with video that challenges notions of medium specificity and advances media art as a creative discipline.