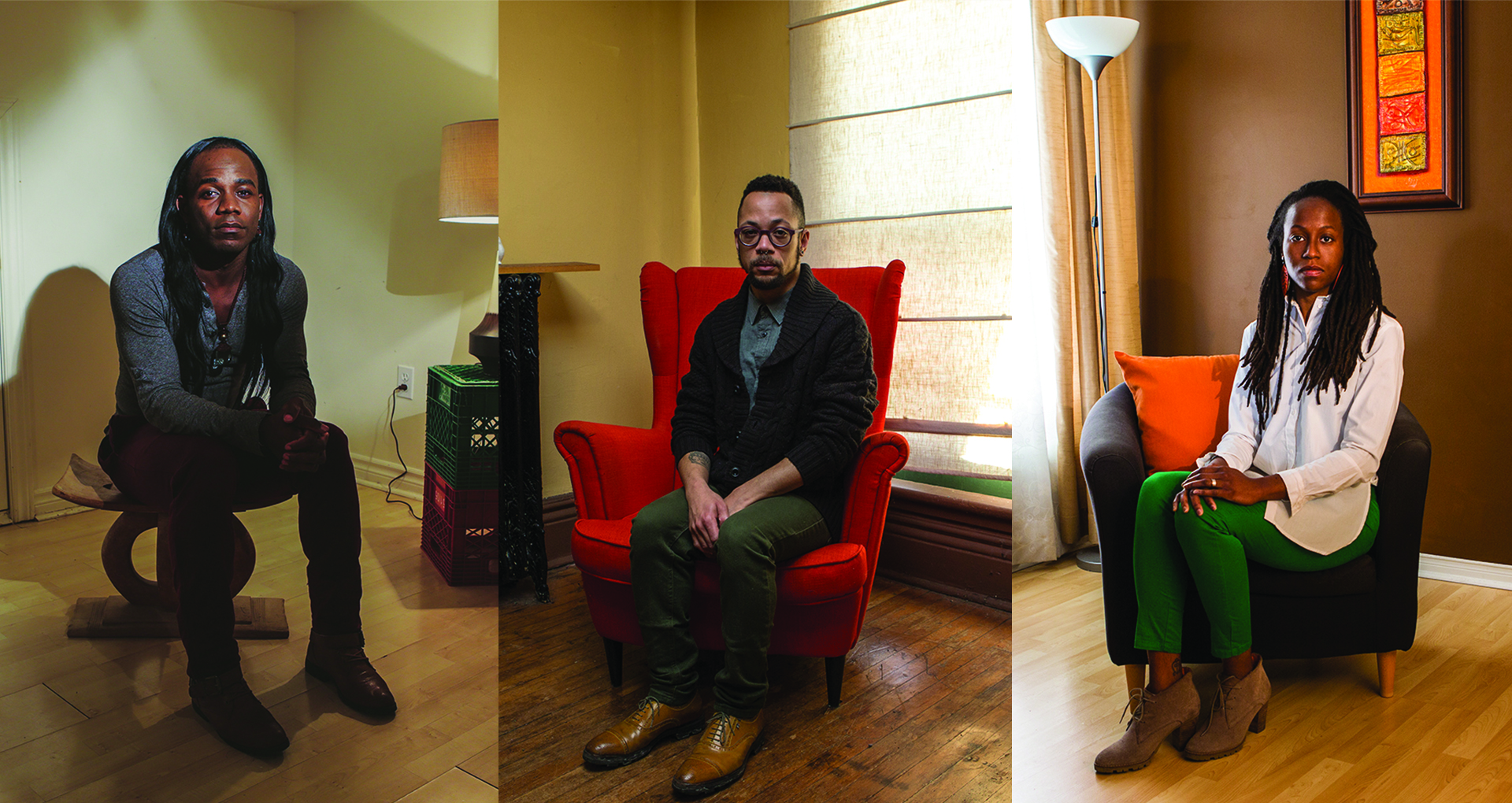 © Michèle Pearson Clarke, Parade of Champions, 2015
Parade of Champions
Michèle Pearson Clarke
Exhibition
September 16 - October 21, 2017
Studio XX, Montréal
Opening: Saturday, September 16th, 2017, 12pm – 5pm
Conversation between Michèle Pearson Clarke and Alanna Thain at 3:30pm 
Studio XX's opening hours:
Tuesday to Friday from 10:00am to 5:00pm, free entrance
4001 Berri, Suite 201 | Montreal (Qc) H2L 4H2

We will also celebrate the launch of esse's 91st issue addressing the theme of LGBT+ !
Vidéographe and Studio XX are proud to present : Michèle Pearson Clarke – Parade of Champions the installation of the Trinidadian-Canadian and Toronto based artist in Montreal.
Parade of Champions explores the grief experiences of three black queer people, following the deaths of their mothers. Although grief is borne from loss of any kind, for an adult child, a mother's death is incomparable. As universal and inevitable as it might be, this suffering is complicated by the restriction on mourning in our culture. Grief upsets us. It makes us uncomfortable. The bereaved are expected to mourn in private or at the very most, publicly for a short period only. For black queers, already unseen and othered, grieving a mother's death requires a further pushing back against notions of disposability and invisibility.
Drawing on my own experience after my mother's death in 2011, Parade of Champions centres this black queer counter-narrative in creating a poetic encounter with loss. Employing still video portraits and audio interviews, this immersive three-channel installation invites viewers to bear witness to this black queer grief.
Biography
Michèle Pearson Clarke is a Trinidadian-Canadian artist who works in photography, film, video and installation. Using archival, performative and process-oriented strategies, her work explores the personal and political possibilities afforded by considering experiences of emotions related to longing and loss, particularly in black/queer communities. Her work has been shown nationally and internationally including at the Ryerson Image Centre, The Power Plant Contemporary Art Gallery and Images Festival in Toronto; and International Film Festival Rotterdam, International Short Film Festival Oberhausen and The Museum of Contemporary Art Chicago. Based in Toronto, she holds an MSW from the University of Toronto and an MFA in Documentary Media Studies from Ryerson University, and is currently artist-in-residence at Gallery 44 Centre for Contemporary Photography. Michelepearsonclarke.com
Alanna Thain  is Director of Institute for Gender, Sexuality and Feminist Studies. She is also Associate Professor of Cultural Studies and World Cinemas in the Department of English. She directs the Moving Image Research Laboratory (MIRL), devoted to the study of bodies in motion across forms of media
Vidéographe sincerely thanks Studio XX  for its support as partner of this event.