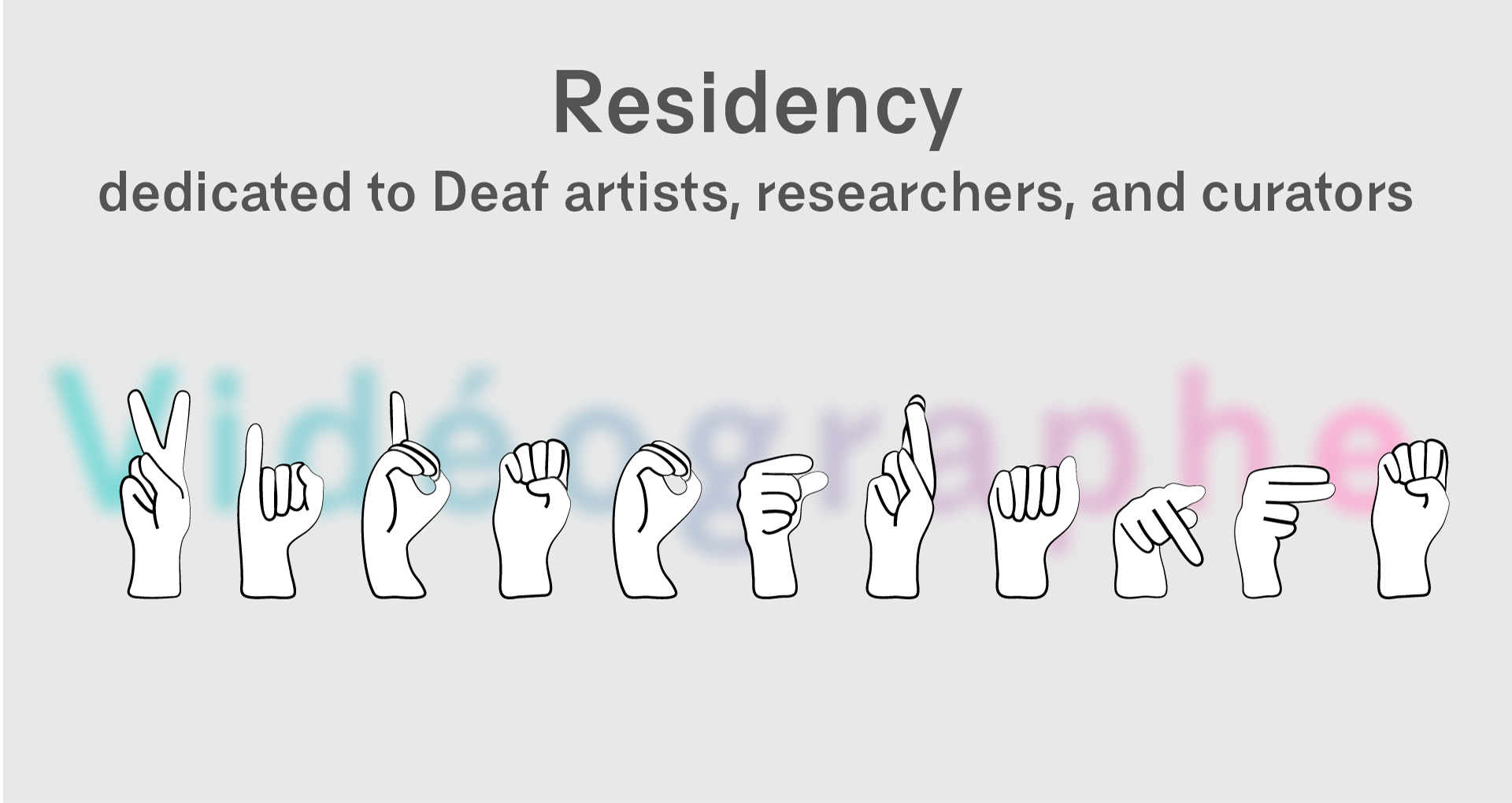 Residency dedicated to d/Deaf artists, researchers, and curators
CALL FOR SUBMISSION
Until March 25th, 2019
With a view to finding fresh perspectives on moving image, Vidéographe is offering a research residency aimed at d/Deaf artists, researchers, and curators. This research and curatorial residency will be shaped according to the needs of the successful candidate.
Artists may use this opportunity to carry out research to create a new work or that feeds their practice more generally. We invite researchers and curators to explore a theme or an area of research using our catalogue as a point of departure. Participants may take a thematic, formal, or historical approach, and might focus on the work of one or more artists.
Upon completion of the residency, the successful applicant will deliver a presentation of his or her research to a public audience.
This residency is intended for d/Deaf residents of Montréal. The successful applicant will receive a flat fee of $2,000. Artists will have access to Vidéographe's production equipment. Researchers and curators will carry out their work in the Vidéographe offices or online via our website, Vithèque. They will be assist by our team in researching the catalogue. As the team at Vidéographe does not currently know LSQ or ASL, we will use the interpretation service, SRV Canada VRS, in addition to email correspondence.
One candidate will be selected for this residency. A selection committee will evaluate the proposals on the basis of interest, rigor, their feasibility vis-à-vis our collection, and the anticipated benefits for the artist, researcher or curator.
Written applications may be submitted in French or English; alternatively applications may be submitted by video in LSQ. To apply, please send:
A description of your project (1,000 words or five minutes maximum)
Your curriculum vitae
Visual or written documentation of previous projects or material that supports your proposal: maximum 15 images (72 dpi or maximum 1024 px width) or 10 minutes video.
Video should be sent via a URL link. Don't forget to include your password if necessary.
SUBMISSIONS DEADLINE: March 25th, 2019

Please note:
If you have any questions regarding our collection or would like temporary access to works via Vithèque while preparing your proposal, please contact our curator Karine Boulanger at collection@videographe.org.
Only email submissions will be accepted. An acknowledgement of receipt will be issued. Please write CURATORIAL RESIDENCY in the subject heading of your email and send it to Olivia Lagacé at info@videographe.org.