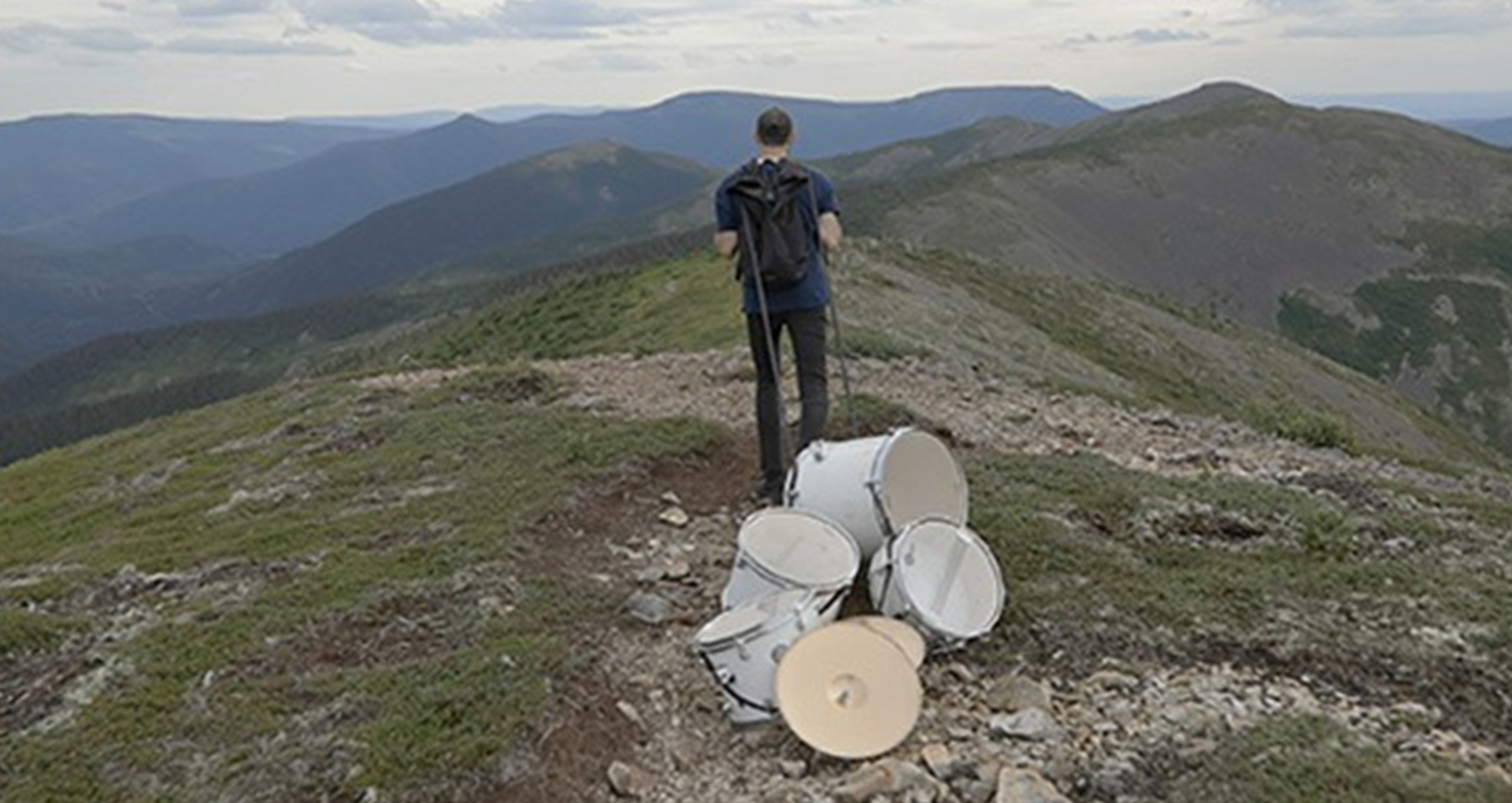 Julien Champagne, Pieces pour guitarres, 2022
SKOL x Vidéographe
Julien Champagne : Pieces for instruments
PROGRAMMING
Opening : November 10, 2022 - expo until December 17, 2022
Centre des arts actuels Skol
372 Saint-Catherine St W, Montreal, Quebec H3B 1A2
Espace 324
In collaboration with the Centre des arts actuels Skol, we present Pieces for instruments by Julien Champagne.
Pieces for instruments is a video installation articulated around the meeting of sound and landscape. In its three videos, the artist strolls through some breathtaking natural landscapes while pulling musical instruments behind him. Dragged along the ground, the instruments emit sounds that, together, create the soundtrack for the piece.
How does the landscape influence our auditory and musical imagination? What instruments, what rhythms, and what melodies is a given landscape likely to suggest? By what means can a forest floor, a mountain, or a beach play the part of a musical score? The gallery becomes a space of contemplation in which these questions intersect.
ARTIST BIOGRAPHY
Julien Champagne has developed a multidisciplinary practice that spans the fields of media arts and experimental music. His work explores the malleability of sound, landscape and everyday objects, while often referencing 20th century canonical artworks.
He recently presented his work at Art Quarter Budapest (Hungary) and collaborated with Artexte (Montreal, Canada) to release his album Data String Oscillations. His work has previously been exhibited at Clark (Montreal, Canada), Occurence (Montreal, Canada), Daïmôn (Gatineau, Canada), La Déviation (Marseille, France), Praxis art actuel (Sainte-Thérèse, Canada), as well as at Traverse Vidéo festival (Toulouse, France) and the Rendez-vous Québec Cinéma (Montreal, Canada).
His album A Take on Piece for Guitars, inspired by the present exhibition, will soon be released on the Archive Officielle label. Champagne's practice has received support from the Canada Council for the Arts and the Conseil des arts et des lettres du Québec. Some of his works are distributed by Vidéographe. He lives and works in Montreal.