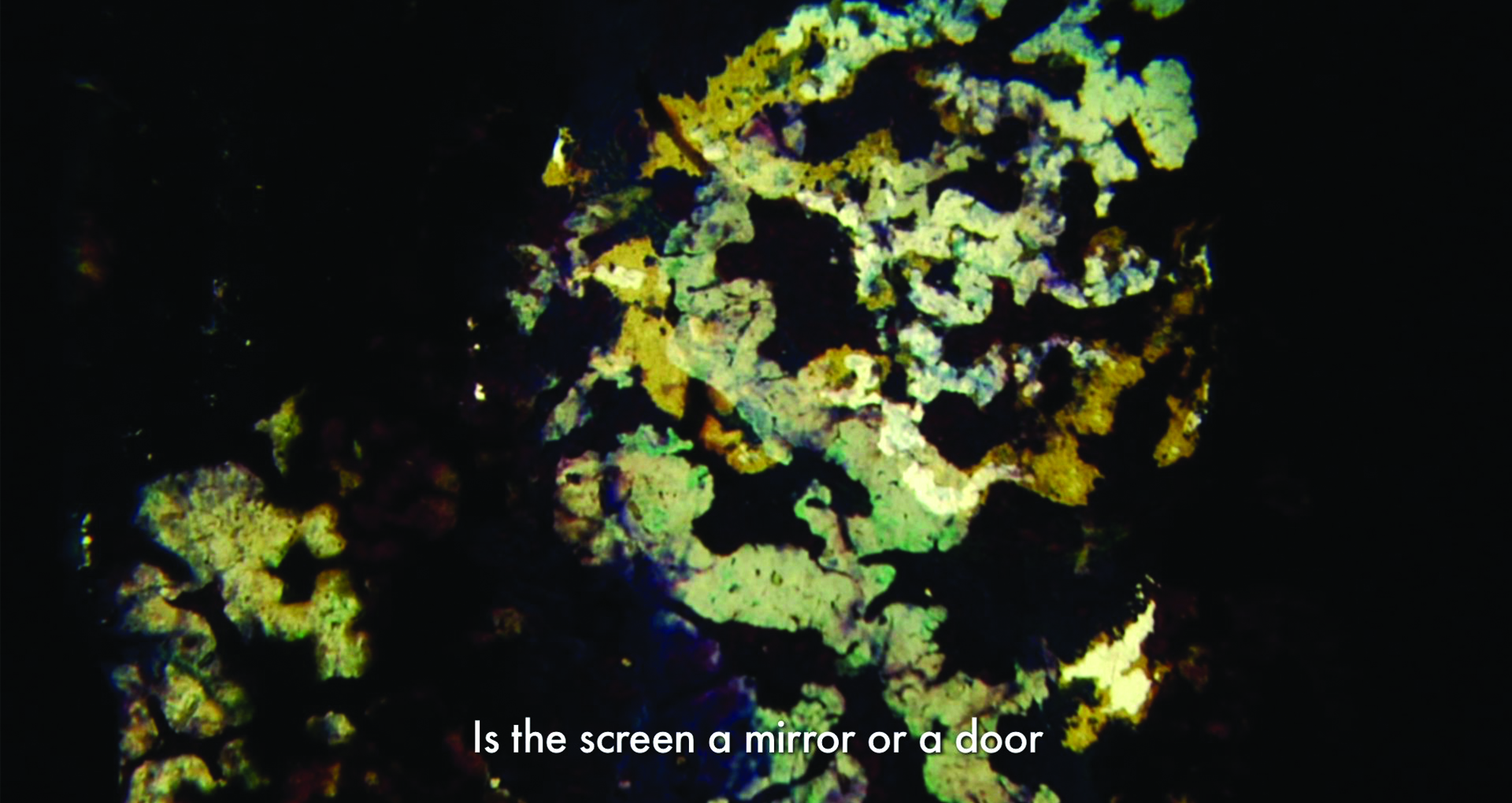 © Mike Hoolboom, Colour My World, 2017
The Image in its Own Right
VIDÉOGRAPHE at the MUSÉE D'ART DE JOLIETTE
Exhibition
October 14, 2017 - January 7, 2018
at the Musée d'art de Joliette
Videos by: Louise Bourque, Charles-André Coderre, Clint Enns, Mike Hoolboom
Curator: Karine Boulanger
Opening:
Saturday, October 14, 2-5pm
145, rue du Père-Wilfrid-Corbeil
Joliette (Québec) J6E 4T4

_______
This presentation of four short films from Vidéographe's collection represents the first collaboration between the Montréal artist-run centre and the Musée d'art de Joliette.
In a media world dominated by narrative and the spectacular, experimental cinema can be disconcerting. It invites us to discover other visual languages, techniques, and highly personal approaches to aesthetics.
The four films by artists Louise Bourque, Charles-André Coderre, Clint Enns and Mike Hoolboom brought together in this program exemplify the little-known vitality of contemporary experimental cinema in Quebec and Canada. Each one explores the expressive possibilities of film in its own way, through grain, scratch, photochemical degradation, or the effects of age. The image's textures, colors, speed, legibility and abstractions all become the artists' primary materials, to which are added sound and the written or spoken word. These films create rich cerebral universes evoking memories, a sense of loss, nostalgia, or absence.
In Mike Hoolboom's Colour My World (2017), the pure abstraction of the image combined with the evocative power of poetic text renders the identities 'us' and 'I' uncertain and encompassing, touching on the intimate and political. From the sumptuous visual effects of Granular Film – Beirut (2016) emerge fragments of memories of travel that, according to Charles-André Coderre, 'now have their own life separate from my existence'. In Clint Enns' Summer Song (2014), the grainy 8mm image evokes family films and images from the past, while the film's fragmented editing reflects the leaps and flaws of memory. The highly complex Auto portrait / Self Portrait Post Partum (2013) dissects lost love on the thresholds of archetype and intimacy: pop music, quotations, self-representation and interventions on the image seem alternately to reveal and distort the life of Louise Bourque. The image serves as both 'a mirror and a door'*; it escapes the self and becomes an image in its own right.
Karine Boulanger, curator, Vidéographe
* Mike Hoolboom, Colour My World, 2017
Biographies
The filmmaker Louise Bourque recently moved back to Montréal after spending 30 years in the United States and elsewhere. Her films have been screened in more than forty-five countries and broadcast on PBS and the Sundance Channel in the US as well as on Télé-Québec in Canada and SBS in Australia. Her work has been presented by major galleries and museums worldwide, including the Musée de la Civilisation and the Musée national des beaux-arts du Québec in Québec city, the National Gallery of Art in Washington, D.C., the Museum of Modern Art and the Whitney Museum of American Art in NYC.
Charles-André Coderre is a Montréal-based filmmaker. He holds a Master's degree from Université de Montréal exploring the subject of contemporary experimental cinema and is a collaborator of the magazine 24 images. Dedicated to working with analog techniques, he is a member of the Montreal collective of experimental cinema Double Negative. He is also involved in the audiovisual project Jerusalem In My Heart. He recently completed his first feature film, Déserts (2016), co-directed with Yann-Manuel Hernandez. charlesandrecoderre.com
Clint Enns is a video artist living in Montréal. His work, primarily dealing with moving images created with broken and/or outdated technologies, has been shown both nationally and internationally in galleries, festivals, alternative spaces and microcinemas. He holds a Master's degree in mathematics from the University of Manitoba, and has recently received a Master's degree in cinema and media from York University where he is currently pursuing a PhD. His writings and interviews have appeared in Leonardo, Millennium Film Journal, Incite! Journal of Experimental Media and Spectacular Optical. Vimeo.com/clintenns
Mike Hoolboom is a Canadian artist working in film and video. He has made over eighty films and videos, and although he chose to withdraw from circulation most of them, approximately a dozen remain on view. His work has appeared in over four hundred festivals, garnering thirty awards. He has been granted the Tom Berner Award for community service and three lifetime achievement awards, the first from the city of Toronto, and the second from the Mediawave Festival in Hungary. In 2017, he won the Governor General's award in Visuals and Media Arts – the highest accolade attributed in Canada to an artist in recognition of their contribution to the visual and media arts. Mikehoolboom.com