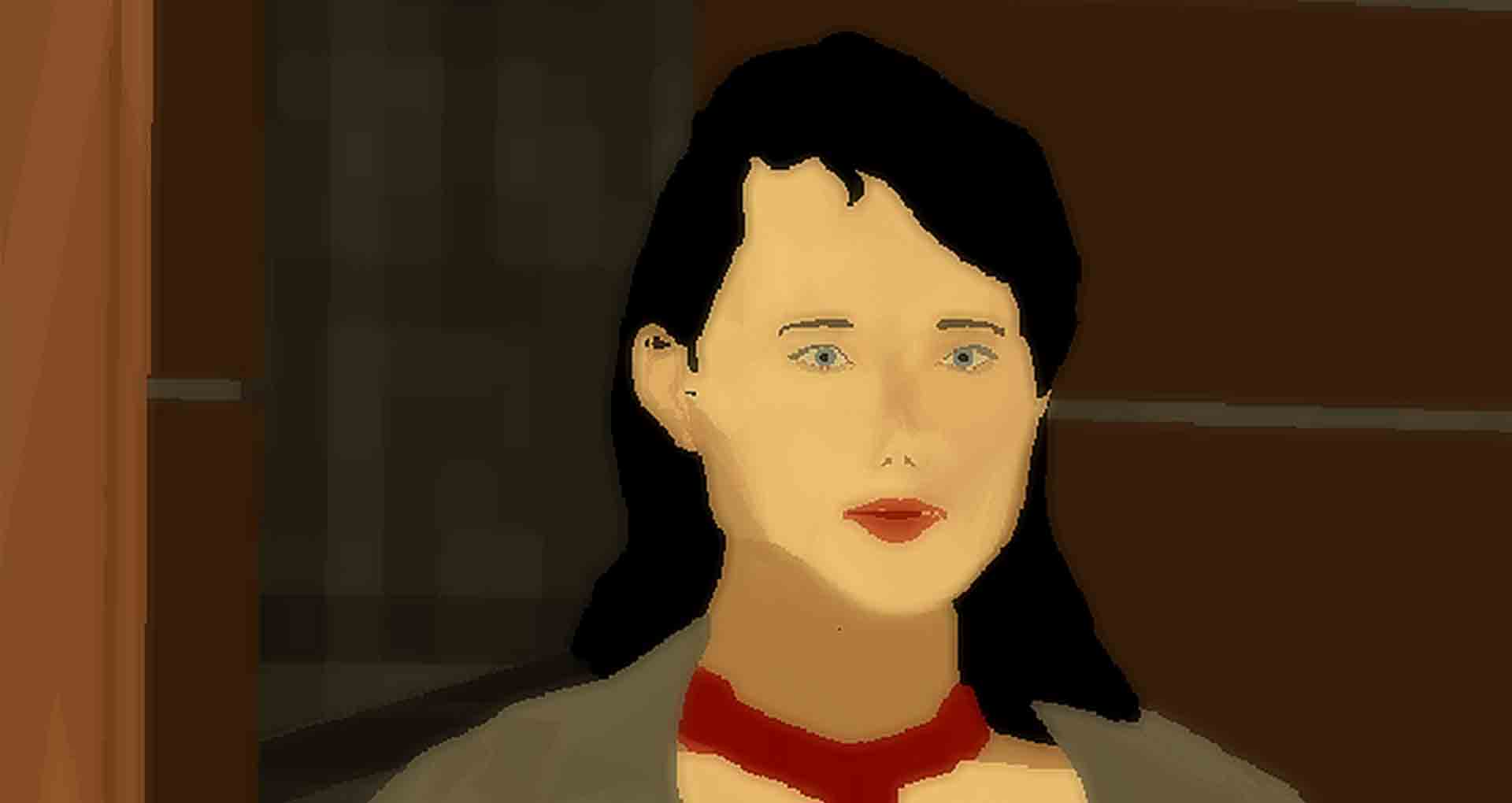 © Barry Doupé, The Colors that Combine to Make White are Important, 2012
Barry Doupé
The Colors that Combine to Make White are Important
Screening and discussion
Wednesday, January 11, 2017, 6:30pm
Dazibao, Montreal
Artist talk : 6:30pm
Screening : 7:30pm
Videographe and Dazibao present the animated feature The Colors That Combine to Make White are Important by Barry Doupé. The screening will be preceded by a presentation by the artist of his ongoing work and research.
The Colors that Combine to Make White are Important (2012, 119 min) explores the power structures within a failing Japanese glass factory. Two parallel storylines — one involving the investigation of a suspect employee, the other a stolen painting — converge in a crude exposé on gender and desire. In this computer-animated film, Doupé's characters rapidly evolve through three distinct acts. The dominant archetypes of the Japanese salaryman genre are subverted and the hierarchical relationship between employer and employee is deconstructed to examine language, art, and expression.
Since 2004, Doupé has been working with digital animation to create hallucinatory thrillers drawn from popular culture, the visual arts, and cinematic codes. The unique style of the artist's works, reminiscent of 1990's videogames, is characterized by narrative ambiguity, the use of the alienation effect and the instability of his computer-generated characters. His films assemble imagery and language derived from the subconscious that are developed through writing exercises and automatic drawing. Through repetition, duplication and antinomy, Doupé invests the forms he animates with enigmatic symbolism. He often creates settings within which a character's self-expression or action is challenged and thwarted, resulting in comic, violent and poetic spectacles. Familiar elements are thus infused with mystery and anguish.
This screening is presented in parallel with the exhibition HB no 6 / HORS PAGE, organized by the partners of the magazine: Arprim, articule, AXENÉO7, CLARK, Joyce Yahouda Gallery and Gallery SAW Gallery, and presented at CLARK from January 12 to February 16, 2017.

Barry Doupé (b. 1982 Victoria, BC) is a Vancouver-based artist primarily working in computer animation. He graduated from Emily Carr University in 2004 with a Bachelor's degree in Media Arts, majoring in animation. His films have been screened throughout Canada and internationally, including the Ann Arbor Film Festival (Ann Arbor, Michigan), International Film Festival Rotterdam (Rotterdam, the Netherlands), Anthology Film Archives (NY, New York), Lyon Contemporary Art Museum (Lyon, France), Pleasure Dome (Toronto, ON), MOCCA (Toronto, ON), Whitechapel Gallery (London, UK), Centre Pompidou (Paris, France) and Tate Modern (London, UK).  barrydoupe.ca