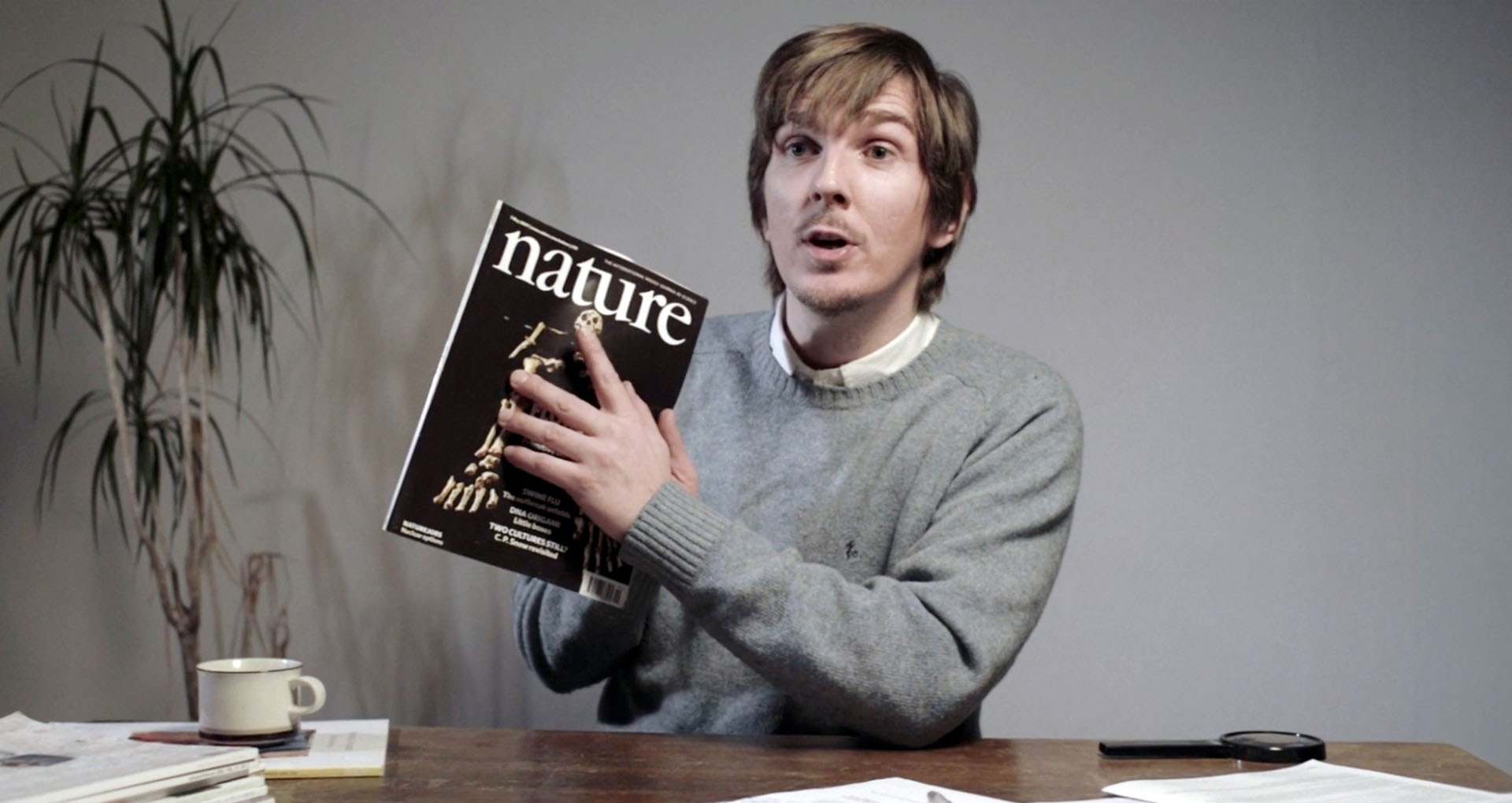 © Hillside Projects, Searching for the European Roller, 2017
dv_vd: Vidéographe x Dazibao x Filmform
Traces and territories and Animal Love
Programming
April 22 and 29, 2021 at 19h

Online broadcast
Free
As part of the dv_vd series, Vidéographe and Dazibao are pleased to dedicate two online broadcasts to Filmform, under the aegis of Karine Boulanger (Vidéographe), Anna-Karin Larsson and Andreas Bertman (Filmform). In Conversation Between Collections, Vidéographe and Filmform offer a cross-curation of their respective collection, through two new video programmes, Animal Love and Traces and Territoires.
This programme, born of a meeting of the two teams in Stockholm in 2018, during which the similarity between the organizations became apparent, is the first collaboration between Filmform (Stockholm) and Vidéographe (Montréal). Founded in 1950, Filmform distributes and conserves a rich collection of international experimental cinema from the 1920s to the present day. Vidéographe, which celebrates its 50th anniversary this year, continually develops a distribution catalogue of more than 2,300 Quebecois and international titles from the 1970s onwards. The two programmes presented here bring together recent works from their collections based around complementary themes that undoubtedly reflect the current times: Animal Love, curated by Andreas Bertman and Anna-Karin Larsson and Traces and territories, curated by Karine Boulanger.
PROGRAMME pt. 1 – Traces and Territories
Håkan Dahlström, The Monument, 17 min 15 s, 2014 (Sweden)
Ulrika Sparre, Ear to the Ground (Wandering Rocks), 9 min 04 s, 2020 (Sweden)
Macha Ovtchinnikova, Stigmates de la terre, 10 min 57 s, 2020 (France-Russia)
Félix Lamarche, Terres fantômes, 18 min 38 s, 2019 (Quebec)
Sophie Vuković, Untitled Abisko, 19 min 15 s, 2020 (Sweden)
Liselotte Wajstedt, Faces, 3 min 29 s,  2008, (Sweden)
► Download the programme for Traces and Territories
BIOGRAPHIES
Håkan Dahlström
Håkan Dahlström, born in Sweden (1952), has dedicated himself to art since his childhood in Málaga (Spain) where he studied at Picasso's Art School for ten years. Throughout his youth, he travelled extensively with his family and parents, whom were both artists (writer Sture Dahlström and painter Anna-Stina Ehrenfeldt).
They lived for a year in the Arizona desert, to which he returned and filmed the 16mm film "Mirror Movement".
His understanding of Nature and Cosmos is vital, observing plants and animals that are present in his work since his beginnings.
He started out as a filmmaker when he found his father´s camera at the age of 14 and in 1967 won the gold medal at Unescos 5th International Contest for Young Filmmakers (Paris). The following years in California (San Fransisco), he lived and worked among other artists in avant-garde circles and participated in the underground film movement, showing his work amongst other places, at the Berkeley Film Archives. Back in Sweden, he won prizes from Swedish Television in 1967, 1968 and 1969. His work has been shown in cinemathéques and art centers in Scandinavia, Paris, London as well as on television.
Today he continues filming on video, using different media and also ways to achieve interaction between film, photography and 3-dimensional work.
Ulrika Sparre
Born in 1974, Ulrika Sparre lives and works in Stockholm (Sweden). She applies her artistic practice to multiple media creating installations, sculpture, photography, film performance and sound art.
In recent years, Sparre has exhibited at Färgfabriken, Reykjavik Art Museum, ARTIPELAG, Varbergs konsthall, Steen Projects Gallery and Index Foundation. Additionally, she has performed a number of projects in public spaces. She studied at Konstfack (University College of Arts, Craft and Design) in Stockholm and at the Gerrit Rietveld Academie in Amsterdam.
Macha Ovtchinnikova
Macha Ovtchinnikova is a French filmmaker and researcher of Russian origin. With a PhD in cinematic studies, she writes about cinema and contemporary art and teaches the practice and aesthetics of cinema and video art at university level. Her works include Les Variations (2014), a feature-length fiction film, Défaite et victoire du corps (2018), a documentary, and Stigmates de la terre [The scar of the earth] (2020). She is currently working on her next documentary work, Chroniques d'une décennie [Chronicles of a decade], produced by Les Docs du Nord.
Félix Lamarche
Graduated in filmmaking from University of Quebec in Montreal (UQAM), Félix Lamarche is interested in both new and traditional ways of the art of cinema. He is now exploring the different possibilities in documentary praxis, and its influence on how we perceive the world, the visible and the invisible. Moreover, he tries to elaborate a non-hierarchical creative space during the filming process and an ethic of dialogue between the film and the spectator. He is currently working on his first feature-length documentary.
Sophie Vuković
Sophie Vuković is a filmmaker and artist based in Stockholm (Sweden). Her practice is situated between documentary and fiction and has previously investigated the construction of identity, intimacy, and migration. Her films explore how personal relations and experiences are shaped and affected by social and political structures.
Her short film 09:55-11: 05, Ingrid Ekman (2015) won numerous awards at film festivals around the world. Her feature film debut Shapeshifters (2017) explores migration and belonging beyond national borders in a hybrid documentary form. Shapeshifters was nominated for a number of awards and received critical acclaim in connection with the Swedish cinema release in the fall of 2017. Her films have been shown at film festivals,  on television, and in cinemas, as well as art exhibition contexts, including at the Barbican Centre and at Moderna Museet in Stockholm, where she participated in the Moderna Exhibition 2018. The film installation Mother's Milk (2019) is her thesis work from the Royal Institute of Art and was awarded a Bonniers Grant.
Liselotte Wajstedt
Based in Stockholm (Sweden), Liselotte Wajstedt is a Sámi multimedia artist from Kiruna (Sweden) whose work spans film and video, collage, painting, photography, sculpture, textiles, and installation. Her experimental work with moving image comprises over two dozen shorts and feature-length films. Spanning hybrid documentary, experimental media, music video, dance, and fiction films, Wajstedt mobilizes many different styles and techniques in the service of her politics and aesthetics, including animation, claymation, stop-motion, and superimposition.
Many of Wajstedt's films engage explicitly or implicitly with multiple and hybrid subject positions, as is evident in A Sami in the City (2007), Sami Daughter Joik (2008), A Soul in a City (2011), Kiruna Space Road (2013), The Lost One (2014), Kiruna the drift block, Bromsgatan, and Kvarteret Ortdrivaren och The Girl Kiruna (2020). She studied painting and free arts before focusing on video art as well as animation and experimental filmmaking, with special emphasis on documentary storytelling and scriptwriting. She holds a Bachelor of Arts in Expression in Convergent Media, 2010 at Gotland University.
---
PROGRAMME pt. 2 – Animal Love
Marte Aas, What I Miss About People, and What I Don't Miss About People, 10 min 51 s, 2017 (Norway)
Ilona Huss Walin, What If I Was A Rat, 7 min 48 s, 2002 (Sweden)
Joanna Rytel, Monkey Performance, 2 min 30 s, 2002 (Sweden)
Frédéric Moffet, The Magic Hedge, 9 min, 2016 (Canada)
Lova Hamilton, The Kiss, 2 min, 1994, (Sweden)
Rachel Echenberg, Blanket: Pigeons, 3 min, 2004
Hillside Projects, Searching for the European Roller, 16 min 36 s, 2017 (Sweden)
Elisa Gleize, Mex and the animals, 8 min 22 s, 2020 (Switzerland)
► Download the programme for Animal Love
BIOGRAPHIES
Marte Aas
Marte Aas, born in 1966 in Norway, is a photographer and filmmaker based in Oslo (Norway). Aas' main area of interest is the intersection between contemporary image culture, history, technology, and the landscape. Her work attempts to address underlying structures and gestures that form political and ideological narratives. These different subjects of interest manifest in the form of films, photographs, and installations, folding them into non-linear and layered narratives.
The starting point for her works is often a story from contemporary or historical material, which, through research, is processed into different formats and media, although strongly grounded in a photographic practice. Photography's material aspects, the connection between sign and signifier, and the representational aspects of photography is thus also investigated and processed in her art.
Aas studied at The School of Photography at The University of Gothenburg and at the National Academy of Fine Arts in Oslo. Her films and art works have been shown in film festivals and exhibitions such as the Film Society of Lincoln Center, the Anthology Film Archive (New York), and the European Media Art Festival (Osnabrück) as well as The National Museum of Art (Oslo), Henie Onstad Kunstsenter, Kunstnernes Hus (Oslo), Kiasma (Helsinki) and The Fotografisk Center (Copenhagen).
Ilona Huss Walin
Born in 1967 in Sweden, Ilona Huss Walin lives and works in Gothenburg (Sweden). She studied at the Academy of Fine Art in Bergen, the Academy of Fine Art in Gothenburg, and at the Gerlesborgsskolan in Stockholm. Her artwork has developed more and more towards conceptual video projects where acting and installation often are key elements and the design methods being different and innovative are of great importance. Huss Walin strives for an end result that is open to interpretation and lets the observer discover something unexpected or make them start thinking in different directions. Reoccurring in her work is an interest in the possibilities of the video as a medium, acting as a phenomenon, movements in the room, spatial installations, and combining the spoken or written word with specially staged situations.
Joanna Rytel
Born in 1974, Joanna Rytel lives and works in Stockholm (Sweden). She graduated in 2004 from the University College of Arts, Crafts, and Design in Stockholm. She has developed a complex artistry, which always points out our time's most poignant issues of gender, power, and identity. She approaches these issues with great integrity, putting the personal at stake, making her form of address accessible to those outside the usual art and film worlds. Considering how loaded these topics are, one might guess that Rytel would handle them with political correctness. Far from it. The politically correct answers are left out and the reaction becomes stronger when viewers are deprived of their passive role and become a part of the answer.
Frédéric Moffet
Frédéric Moffet is an award-winning media artist, educator, video editor, and cultural worker. He lives between Montreal and Chicago. His work explores the slippery territory between history, lived experience, and fantasy. Recent work includes Hard Fat (2002), Jean Genet in Chicago (2006), Postface (2011), and soon The Faithful. Recent screenings include Rotterdam Film Festival, Whitechapel Art Gallery (London), Walker Art Center (Minneapolis), Museum of Contemporary Art (Chicago), PPOW Gallery (New York), Biennial of Moving Images (Geneva), Pleasure Dome (Toronto), Other Cinema (San Francisco), Kassel Documentary Film Festival, Microwave (Hong Kong) and Taipei Golden Horse Film Festival.
Lova Hamilton
Lova Hamilton was born in 1968 in Stockholm (Sweden), where she is still based. She studied at the Royal College of Art in Stockholm and works as an artist in mixed media.
Rachel Echenberg
Rachel Echenberg (Montreal, Quebec) is a visual artist who primarily works in performance, video and sculpture. Echenberg's continual interest in possibilities for active empathy has lead to artworks that highlight vulnerable, intimate and uncontrollable relationships. Since 1992, Rachel Echenberg's work has been exhibited, performed and screened across Canada as well as internationally in Belgium, Chile, Czech Republic, England, France, Germany, Israel, Italy, Japan, Lebanon, Morocco, Northern Ireland, Poland, Portugal, Switzerland and the United States. Many of her videos are available through Vidéographe Distribution in Montreal. Echenberg holds a BFA from the Nova Scotia College of Art and Design in Halifax, Canada (1993) and an MA in Visual Performance from Dartington College of Arts in the UK (2004). Rachel Echenberg currently teaches in the Fine Arts Department of Dawson College in Montreal.
Hillside Projects
Hillside Projects is a collaborative research and production collective based in Stockholm, formed by Emily Mennerdahl and Jonas Böttern in 2011. Hillside Projects work in an interdisciplinary way, always trying to dismantle and reconsider facts and knowledge with a focus on nature/culture. The collective reflects upon methods of collecting, ordering, layering, and presenting information and research material. Performative strategies, storytelling, collaboration, and artistic research are important components of their joint practice. The projects are manifested through drawing, photography, lecture performances, installations, and video. Hillside Projects are committed to working in dialogue with other thinkers and professionals from a variety of fields. Hillside Projects are members of the artist-run gallery ID:I in Stockholm. Who decides what is to be told? Who decides how it is to be told?
Elisa Gleize
Elisa Gleize is a Swiss artist born in 1995. She originally trained as a graphic designer before studying Visual Arts at the Haute École d'Art et Design de Genève, where she graduated in 2019, specializing in documentary-fiction video-making. 
Gleize is currently finishing a DESS in Arts, création et technologies at the Université de Montréal. She works with text, installation, video and appropriated virtual platforms and video games. She explores ideas around the body, biotechnologies, and human and animal identities, as well as their futures and the ways in which they are represented in the cybernetic sphere. She is particularly interested in the 'gray area' permitted by spaces that invite us to put ideas that reside outside of the norm into action. More recently, she has been looking at 'cyber-sexualities' or the process of rendering certain groups invisible, equipped with their cameras or computers. Gleize most often articulates her subjects through 'info-fictitious' stories that suggest a future tainted by today's issues, against a sensitive and sometimes sarcastic background.
Filmform is a Swedish foundation dedicated to the promotion, distribution, and preservation of Swedish art film and experimental video.
► Live on Dazibao's Facebook page and Vidéographe's YouTube channel