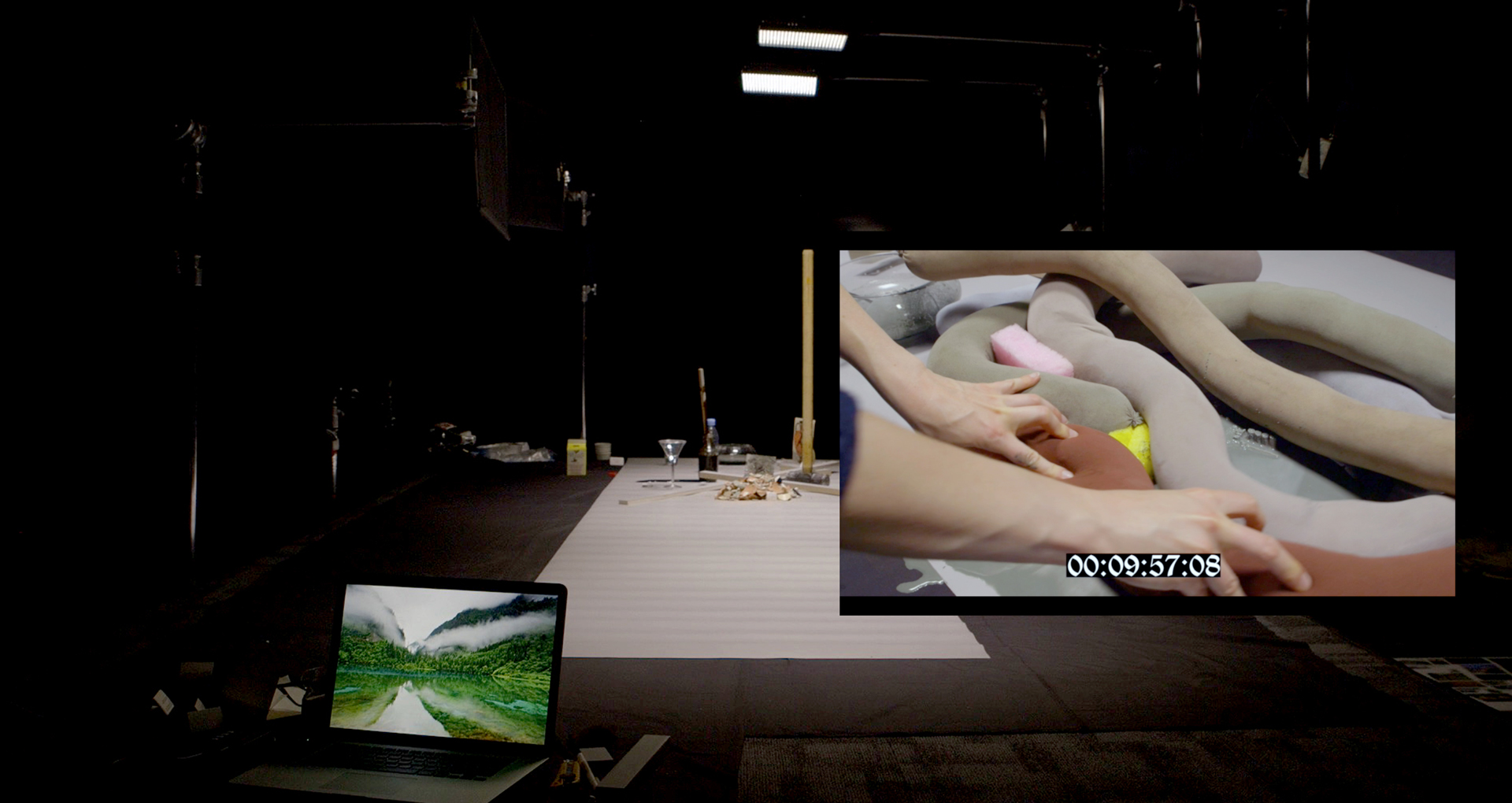 © Edith Brunette et François Lemieux, Vases communicants
Edith Brunette et François Lemieux
LUX – Creation and dissemination residency
July 2019 – February 2020
Main Film, OBORO, PRIM and Vidéographe are pleased to welcome Edith Brunette and François Lemieux who are carrying out the LUX residency. During the course of this residency, the artists will develop a project based on gestures that will take the form of video installation and single-channel video, combining images of small sculptural objects, the gestures of the hands that create them and video footage found online.
Through these gestures, a future landscape is developed, cobbled together and evolving, that testifies to a logic of coexistence with a world that is chequered with infrastructures that program and divide – borders, human resource agencies, pipelines, surveillance networks – but is also streaked with movements that cannot be seized – migration, depression, disengagement, occupation, exhaustion, explosions, leaks; movements of unmanageable beings and materials that leave traces and call for further leaps, always.
Vases communicants signals a world in survival mode that seeks to assure its own sustainability by restraining the movement of materials, capital, and people, all the while assigning everything to its place – but such retention paves the way for eruption, and this world is leaking all over the place. Brunette and Lemieux's research will involve the articulation of objects, filmed manipulations and texts to tell the story, in an experimental, poetic and critical manner, of the construction – and possible degradation – of this world.
BIOGRAPHIES
Edith Brunette
Edith Brunette combines artistic practice and theoretical research. In each of these she is concerned with the discourse – particularly within the art world – around the political forces at play. As an author and researcher, she is regularly published in various journals and art publications. She is a co-founder of the organization Journée sans culture and in 2017 she embarked on doctoral studies in political science at the University of Ottawa.
►http://edithbrunette.net/en/home/
François Lemieux
The artistic activities of François Lemieux combine practice, research and publishing and take the form of installations, documents, and situations that are intended to encourage a collective reflection on notions of value, the everyday and the relationship to the norm. Lemieux has founded collective and independent projects including We left the warm stable and entered the latex void from 2008 to 2010 and the publication that he co-edits, Le Merle, Cahiers sur les mots et les gestes. Lemieux is co-founder of the organization Journée sans culture.
ABOUT LUX
LUX is a joint residency program offered by Main Film, OBORO, PRIM and Vidéographe that is dedicated to the creation and dissemination of moving images works by artists from Quebec and Canada. This Vidéographe initiative is supported by the Conseil des arts et des lettres du Québec's Concertation et innovation program.