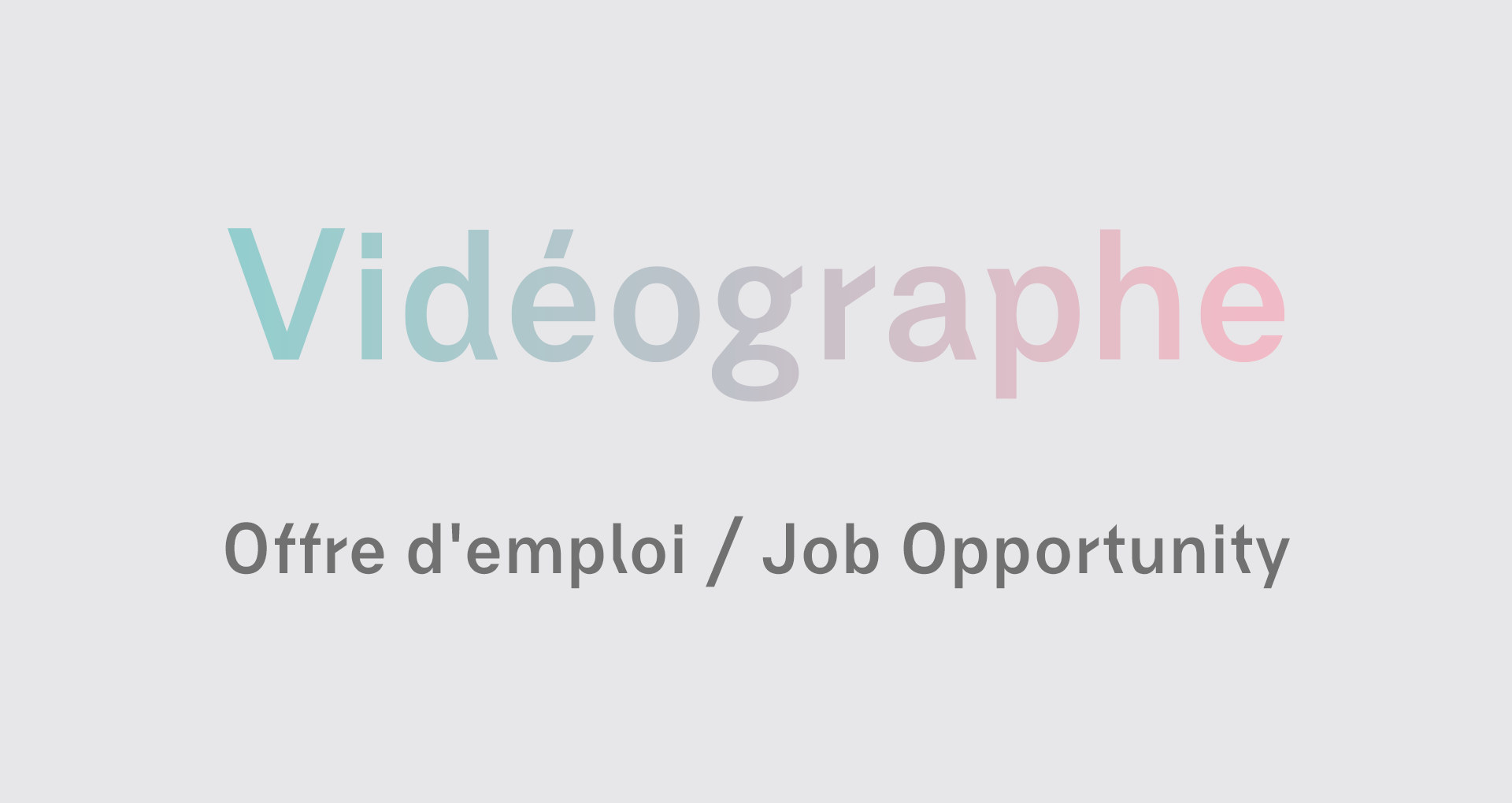 JOB OFFER – TECHNICAL COORDINATION
JOB OPPORTUNITY
Deadline : December 1st, 2022
Vidéographe
Vidéographe is an artist-run center dedicated to the research and dissemination of experimental forms of the moving image. We distribute short, medium, and feature-length films and video installations by independent artists from Quebec and abroad. Vidéographe is active in the commercial, educational and institutional markets.
Vidéographe recognizes the richness of Quebec's cultural, sexual, identity, and linguistic diversity. We, therefore, encourage people from traditionally under-represented, minority, or marginalized groups to apply.
SUMMARY OF THE POSITION
The Technical Coordinator ensures the technical expertise of Vidéographe's various sectors: distribution, programming, creation services, professional training and educational activities.
DESCRIPTION OF DUTIES AND RESPONSIBILITIES
DISTRIBUTION:
– Digital control: receiving, checking, and organizing digital works.
– Encode works in the collection in various codecs and formats for theatrical, gallery, television, and web distribution.
– Delivery of digital files for festival, theatrical, web, etc. broadcasts.
– Create and test DCPs (digital cinema packages).
– Ensure the technical follow-up of the works in the collection.
– Daily video editing work: cleaning/adjusting videos, creating trailers, creating video programs.
EDITING ROOMS AND EQUIPMENT:
– Enter and update digital labs and editing rooms.
– Provide technical support to artists using the editing rooms (Premiere Pro, DaVinci Resolve, Pro Tools).
– Follow up on room and equipment rentals with the artists (reservation, preparation of material, invoicing).
– Monitor technology: purchase of equipment and software.
– Conduct research and development activities on new equipment.
– Contribute to grant applications and reports related to the sector.
– Provide digitization services for video archives (Betacam, MiniDV, VHS, etc.)
PROGRAMMING, TRAINING, AND EDUCATIONAL ACTIVITIES:
– Provide technical expertise for various programming activities: gallery video installation, evening screenings, panel discussions, etc.
– Provide technical expertise for professional training and educational activities.
– Contribute to the programming committee, from ideation to production coordination.
– Participate in selection committees for creative programs.
– Ensure links and technical exchanges with other artist-run centers and partners.
REQUIREMENTS
– Knowledge of the Quebec artistic and media environment
– Experience in a similar position
– Mastery of software (Final cut pro 7 and 10, Compressor, Premiere, Pro Tools, Da Vinci)
– Excellent knowledge of Mac and PC environments
– Ability to supervise an intern
– Ability to transmit information
– Fluency in spoken and written French, English an asset.
– Ability to work in a team
– Strong organizational skills, autonomy, initiative, and interpersonal skills
HIRING CONDITIONS
Workplace: 4550 Garnier Street, Montreal, H2J 3S7
Schedule: 28 hours per week
Remuneration: hourly wage of $20
Application deadline: December 1, 2022
Interview period: December 6 to 9, 2022
Start date: December 13, 2022
Please send your resume and cover letter before December 1st, 2022, to the attention of  Mick Sand at info@videographe.org
We warmly thank all interested candidates. Only those candidates selected for an interview will be contacted.