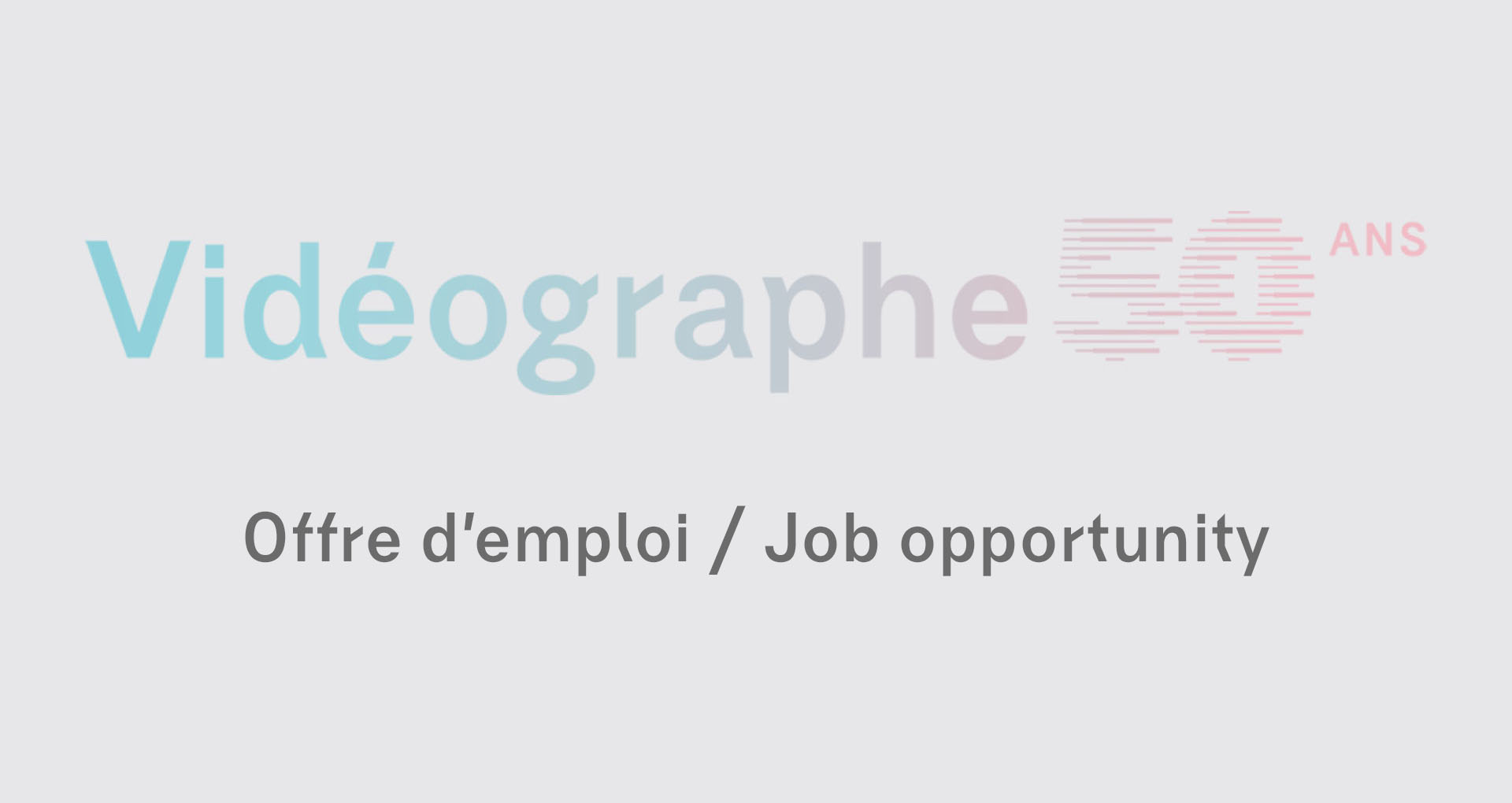 © Videographe, 2021
Job opportunity at Vidéographe – Executive Director
JOB OPPORTUNITY
Candidature until June 7, 2021
Established in 1971 in Montréal, Vidéographe is an artist-run centre dedicated to the research and dissemination of moving image practices. This includes experimentation in video art, animation, digital arts, installation, documentary, essay and dance video. We are dedicated to promoting the recognition and understanding of both current and archival works. Vidéographe has a unique catalogue of more than 2,300 videos.
We are looking for an Executive Director for this vibrant artist-run centre.
Vidéographe recognizes the richness of the diversity of culture, sexual orientation, identity and language in Quebec. We encourage members of minority, marginalized or traditionally under-represented groups to apply.
Job description
Under the supervision of the Board of Directors (B.D.), to guide and manage Vidéographe in all of its operations, to look after the short and long-term strategic planning and to ensure regular follow-ups with the B.D.
To obtain all funding necessary to Vidéographe's operations from federal, provincial, municipal and private sources and to produce timely reports
To manage Vidéographe's finances and administration with occasional external support
To develop, implement and manage Vidéographe's activities with regards to creation, dissemination and distribution in collaboration with the centre's B.D., committees, members and employees
To manage Vidéographe's communications and publications
To supervise the activities, workloads and schedules of all Vidéographe employees
To oversee the recruitment of personnel
To represent Vidéographe and promote the centre to all funders and the media arts milieu
To foster and develop partnerships on a local, national and international level
To organize and document all meetings necessary for the proper functioning of Vidéographe, including Board meetings and the Annual
General Assembly
To preserve and build upon Vidéographe's membership
To oversee the capitalization project.
Key competencies
Minimum of 5 years' experience in the following: administration of cultural organizations (NPOs), people management, project management, public relations management, communications, fundraising and grant applications
Knowledgeable about visual and media arts as well the cultural milieu in Quebec
Knowledgeable about the creation, distribution and dissemination of independent media works
Understands social media and internet promotion
Has experience of working with a Board of Directors
Ability to communicate and work in a team
Aptitude for forging dynamic relationships with members
Excellent written French
Very good spoken and written English
Conditions of employment
Hours: Full time (flexible schedule)
Salary: $45,000 – $50,000, depending on experience
Start date : 1 August – date flexible
Please send your curriculum vitae, supporting letter and three references to direction@videographe.org before June 7, 2021.
Please note that only short-listed candidates will be contacted.