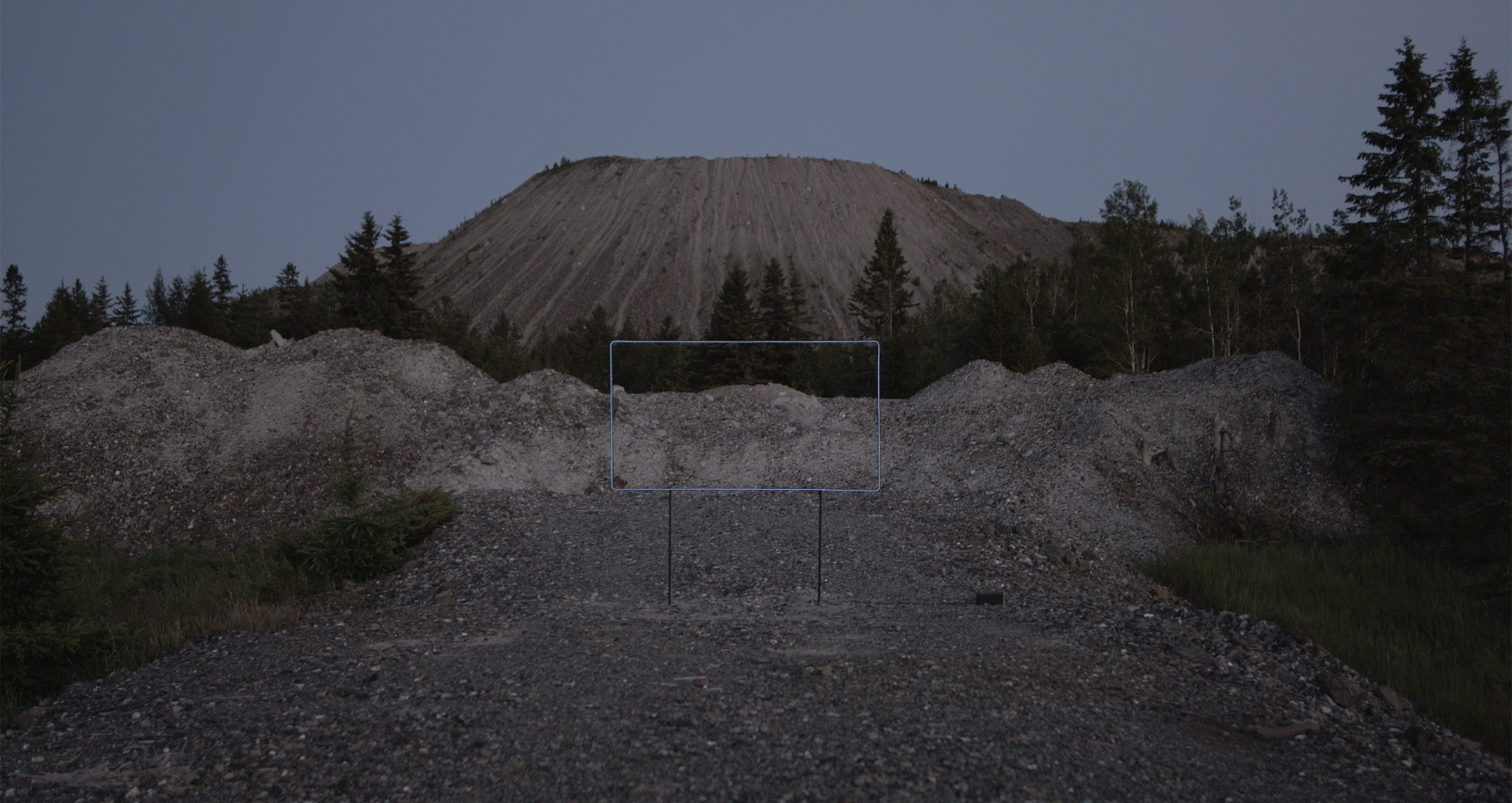 © Julien Champagne, Screens, 2018
Julien Champagne
Screens
Exhibition
September 7 - October 6, 2018
Occurrence

OPENING
Friday, September 7, 2019
as from 5pm
Free
Occurrence and Vidéographe are pleased to collaborate again and to co-present Julien Champagne's five channels video installation Screens.
The project Screens is intended to illustrate the links between cinema and our common imaging of death. The making of these films involved recording the ambient sounds around the burial sites of five filmmakers from Quebec. Using a device that transforms sound into light, these recordings were then used to make an illuminated sound-reactive frame palpitate in sync with the soundtracks' variations in volume. The frame was installed at five sites in Quebec in which the selected filmmakers' films were shot; each of these interventions in the landscape was documented with a video camera, at nightfall.
In the resulting 40-minute shots, we initially see the device planted in the landscape and then, as the image gradually becomes more obscure, we watch it disappear and be replaced by a simple rectangle of light that seems to hover in the air. This rectangle of light may evoke the archetypal form of the cinema screen, or may bring to mind the autofocus collimator that can be seen in the viewfinders of numerous photo or video cameras. Its flickering light evokes one of the fundamental principles of cinema: the illuminated palpitation through which the illusion of movement can be created.
Biography
Julien Champagne has developed a multidisciplinary practice that straddles the fields of media arts and experimental music, through which he explores the malleability of sound, of the landscape, and of everyday objects, while often making reference to works from the 20th century canon. Champagne holds a Master's Degree in the History of Art, and in his research he explores the phenomenon of the appropriation of cinematographic devices in contemporary art. As a musician, he plays with various improv bands and collaborates with film- and video-makers to foster dialogue between sound and moving image. His collaborations have led to his work being presented in numerous music and film festivals in Canada, France, the US and Australia. In parallel with this, he works as a multimedia designer and writer in studios specializing in interactive arts. He lives and works in Montréal. Julienchampagne/vimeo
Excerpt (Accelerated editing of the video captation at Black Lake)