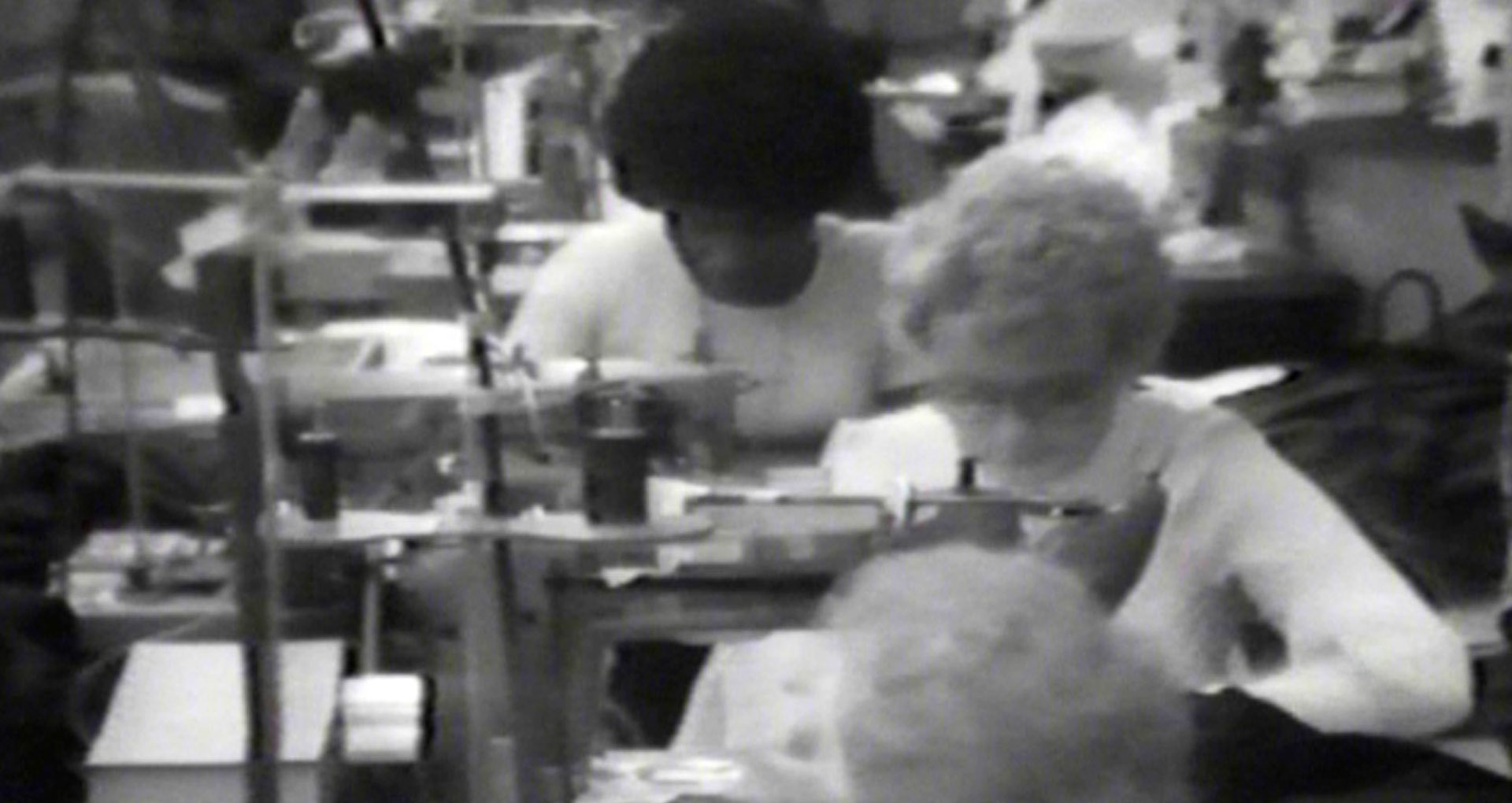 © Bernard Emond, Trois mille fois par jour, 1978
Karine Savard, Affichez le travail
Online Programming / Exhibition
April 16 - July 18, 2021

Vithèque / Diagonale
Free
Following her research and curatorial residency at Vidéographe during the fall 2020, Karine Savard will present her project Affichez le travail this spring Diagonale – the center for the dissemination of contemporary art from April 16 to  June 5, 2021,during the collective exhibition Human Capital, along with the French artist Julien Prévieux.
A second part of Karine Savard's project will be presented at the Musée d'art de Joliette in fall 2021.
A video program accompanied by a critical essay written by Karine Savard will also be available online on Vithèque, from April 16 to July 18, 2021.
Affichez le travail
As part of a curatorial and research residency, she will select video works produced at Vidéographe from 1970-80 that address themes relating to work (for example, the beginnings of union organization, self-governing initiatives, workers' protests) and will then create posters inspired by these video-pamphlets from the past.
The posters, hijacked from their usual promotional function by the anachronism, will be exhibited at the Musée d'art de Joliette and at artist-run centre Diagonale as part of an installation that will integrate other medias, including video, sound, and murals. Posters will also be displayed in the windows at Diagonale, to invite passers-by to reflect on the changing nature of work and its repercussions on the urban ecosystem. The artist-run centre is situated in an old industrial building in Mile End (Montréal), which has been repurposed to house various businesses and cultural organizations. In exhibiting this work here, Savard wishes to bridge the struggles of the bygone industrial period with the current context of cognitive capitalism, a context in which artists and cultural workers evolve today.
BIOGRAPHY
Since 2015, Karine Savard has focussed her practice on the subjects of art and work, subverting the usual function of film posters to highlight the entanglement of her status as both a worker and an artist reflecting on her work. Previous collaborations with her father, a carpenter-joiner, gave her an opportunity to explore issues such as the relationship between manual labour and intellectual work, the division of labour and its recognition in the capitalist system, and issues of choice and aesthetic judgements.
In addition to her surreptitious interventions over recent years, she has exhibited at the Leonard & Bina Ellen Gallery (Montréal). She is currently pursuing a doctorate in Études et practices des arts at the Université du Québec à Montréal and has been awarded a grant from the Social Sciences and Humanities Research Council of Canada. Her project focuses on the study of an archive of audiovisual documents representing work in a synthetic textiles mill in Besançon, France, from its establishment in 1892 to its closure in 1982. Exploring the crossover between the history of the synthetic textile industry and the audiovisual media industry allows her to investigate the transformation of the notion of work in the passage from an industrial economy to an economy based on information and communication. karinesavard.com
Karine Savard would like to thank the Canada Council for the Arts, Vidéographe and Sagamie for their support in the creation of this project, as well as Jean-Philippe Boudreau, Scott Berwick, Karine Boulanger, Audrey Brouxel, Violaine Charest-Sigouin, Hervé Demers, Émili Dufour, Emily Gan, Chloé Grondeau, Maud Jacquin, Robin Simpson, Anne-Marie St-Jean Aubre, Olivia Vidmar, Sami Zenderoudi, Roxanne Arsenault and Manon Tourigny for their support and
contribution at one point or another of the process.