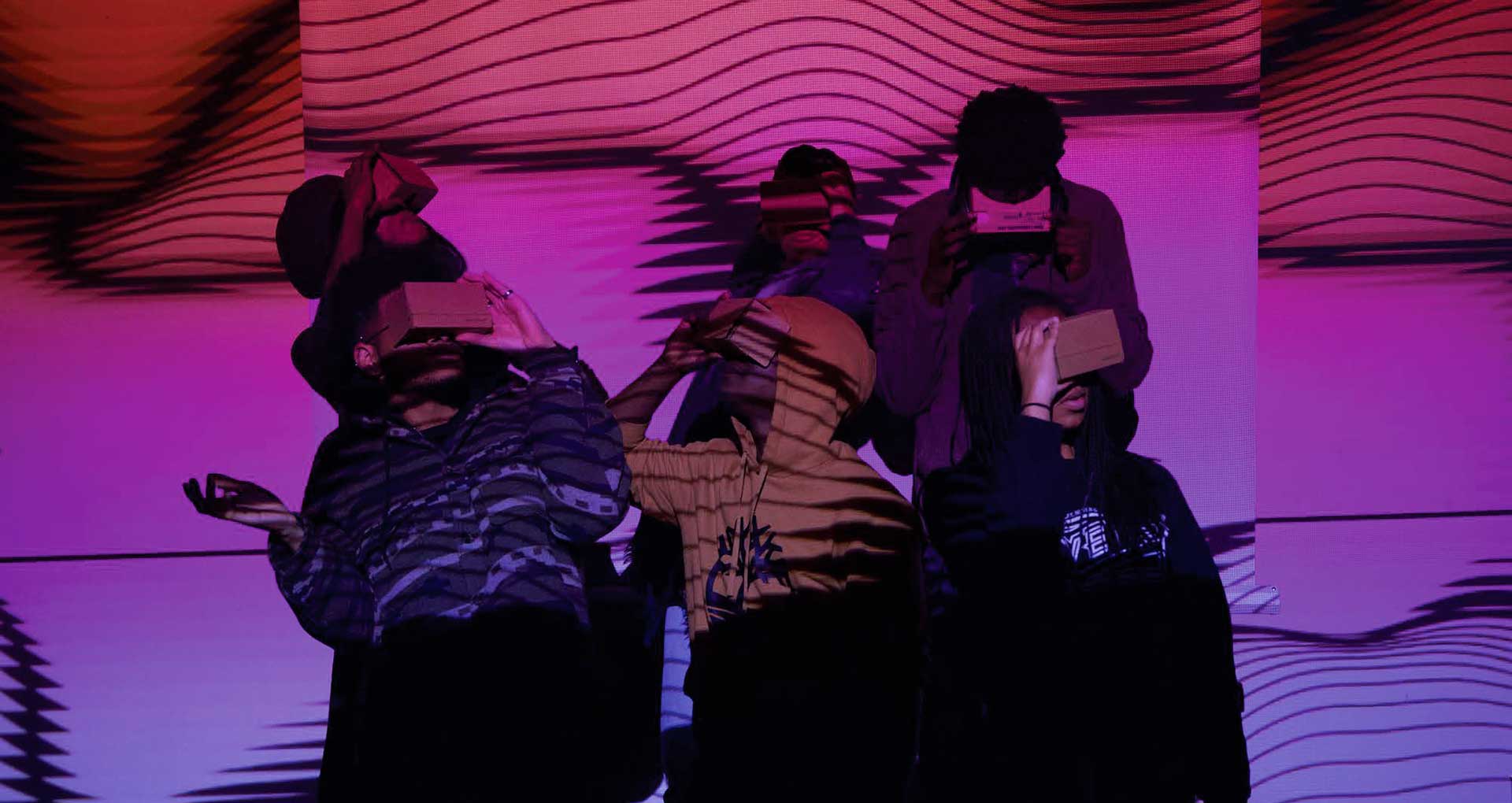 ©  Vanessa Suzanne
Le temps c'est mourir, créer à l'envers
Instructors & speakers :
Gaëlle Étemé, Dougy Hérard, Vanessa Suzanne, Anoush Moazzeni
Presentation and discussion
December 19, 2019
6pm at the Centre des arts de la Maison d'Haïti
3245, Émile-Journault, Montréal
Gratuit
Vidéographe and Maison d'Haïti are pleased to invite you to Le temps c'est mourir, créer à l'envers, an immersive audiovisual work created during a series of workshops offered by Vidéographe at La Maison d'Haïti this autumn. The presentation of this work will be followed by a discussion, during which the co-creators will share their thoughts, discoveries and the issues they encountered over the course of their collaboration.
As a point of departure, the participants were asked to reflect on the principal theme of this collaborative creative project : "explore identity through time and space". They then embarked on a process of research-creation over the course of 12 workshops, where they were invited to consider questions such as, what does it mean to make art with new technologies? Through what means might a collective identity be performed? What is research-creation? What is the relationship between the creator and the fantasy world?
To realize this work, the participants were given introductory lessons in screenwriting, directing, creative writing, 360-degree video recording, how to use a 3D engine, photogrammetry, video editing and digital sound conception. The workshops were led by a team of Montréal-based Interdisciplianry artists and researchers who had been selected for their ability to impart their knowledge and expertise.
This project was offered free of charge to young adults aged 18 – 25 as part of a mediation and digital exploration program for cultural communities run by Vidéographe in partnership with the community organization La Maison d'Haïti and thanks to financial support from the City of Montréal and the government of Québec.
Instructors :
Gaëlle Étémé: Researcher in Human and Social Sciences
Dougy Hérard: Multimedia Artist and Virtual Reality Programmer
Vanessa Suzanne: Multimedia artist/researcher
Anoush Moazzeni: Reseracher-Creator, Interdisciplianry Composer, Concert Pianist and New Media Artist
Participants & Co-Creators :
Maxis Darrow
Bertito Desbluines
Vanessa Exama
Nathanael Fleuriné
Jesse Lessard
Jean-Hary Lutrin
Dwight Myrtil
Victoria Platel
Mohammad Popal
Axel Sui Nal
Director and project coordinator : Anoush Moazzeni
PRESENTATION
Thursday December 19, 2019
6pm at the Centre des arts de la Maison d'Haïti
3245 Émile-Journault, Montréal
Free
*The discussion will be in French. The event is presented in barrier-free spaces. Welcome, everybody!