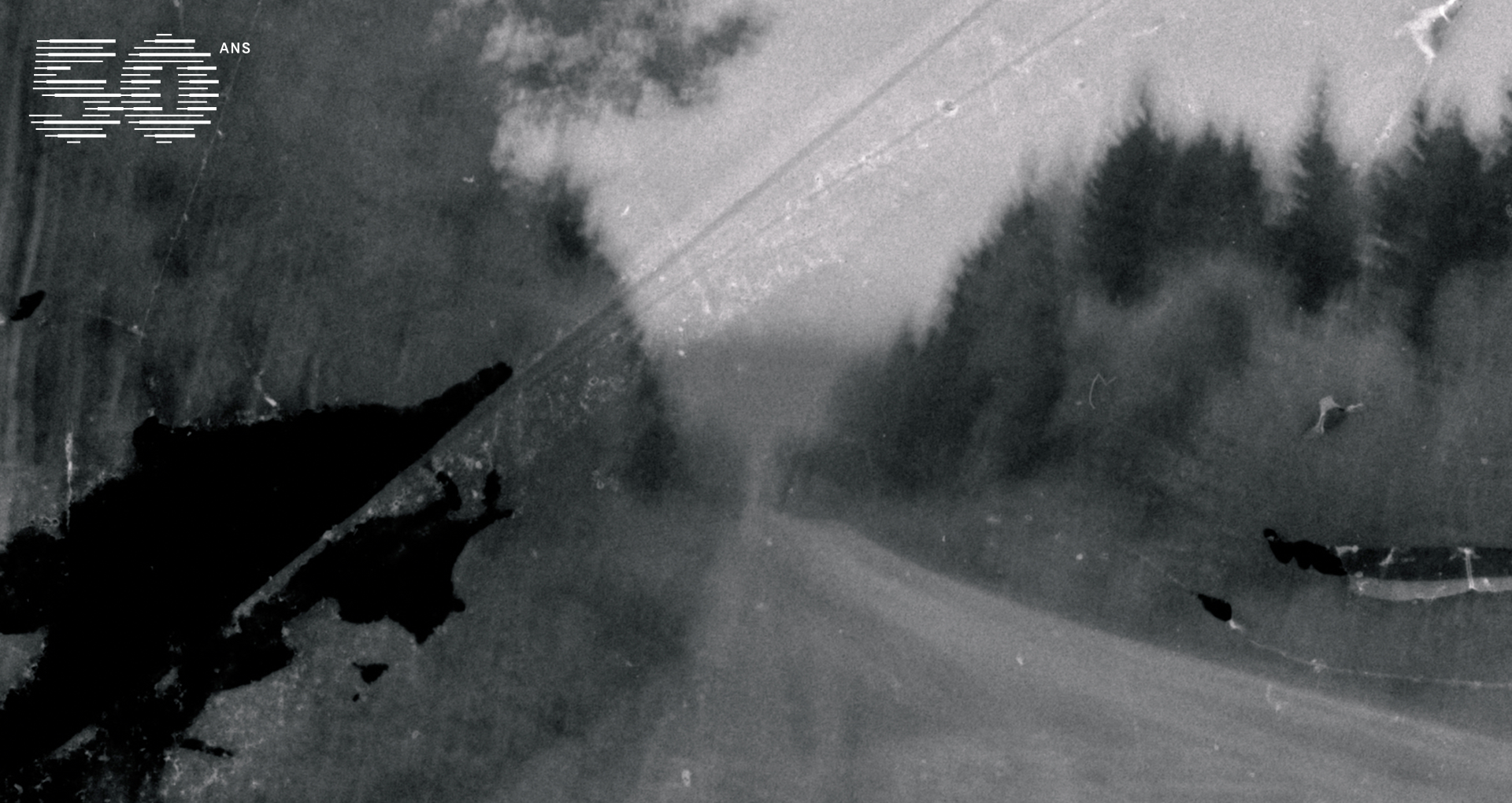 ©Félix Lamarche, Terres Fantômes, 2019
LES VIDÉOGRAPHES – PERPETUAL REMIXING
PROGRAMMING
July 28, 2021
2320 rue des Carrières, Montreal
Free
In celebration of the 50th anniversary of Vidéographe, and in collaboration with Le Sémaphore, we are delighted to present a public outdoor screening with a program prepared by artist Luc Bourdon. This event will mark the first in-person screening of this year and we couldn't be happier to share these wonderful films with our audiences.
The origin and evolution of Vidéographe were inspired by emerging video technologies. 50 years after, its collection of close to 2,500 productions by hundreds of video makers covers a variety of subjects, perspectives, and aesthetics.
This program highlights an important aspect of the Vidéographe collection: experimentation. In these videos, image and sound have been manipulated by videomakers who were keen to push the boundaries of the medium.
Their investigations are manifested in experimental works that play with time, concepts, and ideas. In this selection of videos, which also delves into the worlds of performance and documentary, we see a resurgence of the techniques and textures of yesterday, thoughtfully remixed by artists who have strayed from the beaten path using images and techniques from times gone by.
*Please note that the screening date will be rescheduled in case of rain.
PROGRAM
Duration : 70 min
Manon Labrecque, C't'aujourd'hui qu', 18 min, 1999
Karl Lemieux, Western Sunburn, 10 min, 2007
Louise Bourque, Autoportrait / Self portrait post partum, 13 min, 2013
Maxime Corbeil Perron, Ghostly, 7 min, 2013
Félix Lamarche, Terres fantômes, 20 min, 2019
BIOGRAPHIES
Manon Labrecque
Manon Labrecque has degrees in contemporary dance and visual arts. Since 1991, she has made videos [single-channel and installation], performances, drawings, photographs, kinetic and sound installations.
Karl Lemieux
Karl Lemieux is a filmmaker. Several of his short films including Motion of Light (2004), Western Sunburn (2007), Trash and no star ! (2008), Passage (2008), Mamori (2010) and Trains (2011) have screened internationally in underground music venues, Cinematheques, museums, galleries, and renowned film festivals including Views from the Avant Garde – New-York Film Festival, Rotterdam Int. Film Festival, Toronto Int. Film Festival. His work, Mamori, produced by the National Film Board of Canada with music by Francisco Lopez, was presented as a solo exhibit at the Montreal Contemporary Arts Museum, was screened at the MOMA – Museum Of Modern Art in San Francisco and was awarded the Grand Prize at the 25 fps International Experimental Film Festival in Zagreb. His live 16mm film projection performances include ongoing collaborations with sound artists and musician such as Godspeed You ! Black Emperor, The Black Keys, BJ Nilsen, Hiss Tracts (David Bryant [GY!BE, Set fire to flames], Kevin Doria [Growing], Jonathan Parant [Fly Pan Am]) and Hyena Hive (Bruno Julien [Maussade], Marc-Alexandre Reinhardt [Lanterner]). He has also contributed to three theatre productions by Marie Brassard: "Moi qui me parle à moi-même dans le future" (2010), "L'Invisible" (2008) and "The Glass Eye" (2007) and his now working on her new play called Trieste (2012).
Louise Bourque
The filmmaker Louise Bourque recently moved back to Montréal after spending 30 years in the United States and elsewhere. Her films have been screened in more than forty-five countries and broadcast on PBS and the Sundance Channel in the US as well as on Télé-Québec in Canada and SBS in Australia. Her work has been presented by major galleries and museums worldwide, including the Musée de la Civilisation and the Musée national des beaux-arts du Québec in Québec city, the National Gallery of Art in Washington, D.C., the Museum of Modern Art and the Whitney Museum of American Art in NYC.
Maxime Corbeil-Perron
Maxime Corbeil-Perron is a Tio'tia:ke/Montreal-based composer, director and audiovisual performer whose work has been highlighted by numerous international competitions, media and festivals. His artistic practice unfolds in a multiplicity of media: audiovisual performance, experimental cinema, electroacoustic composition, improvisation, sound art and installation. His current works present an approach related to media archaeology, in which he seeks to establish relationships between obsolete media and contemporary technologies, in search of new aesthetic possibilities.
As a director, he received the best experimental animation award at the Ann Arbor Film Festival (2021), the prize for best experimental work at the RVQC (Canada, 2020) and the grand prize for best experimental work at Festival Tous Courts (France, 2020).
As a composer, his work was awarded an honorific mention in digital music and sound art at Prix Ars Electronica (2021). He was artist-in-residence at EMS Stockholm (2018), Signal Culture (2017, 2019) and the Société des Arts Technologiques (2019). He holds a doctorat in sonic arts from the University of Montreal.
Félix Lamarche
Graduated in filmmaking from University of Quebec in Montreal (UQAM), Felix is interested in both new and traditional ways of the art of cinema. He is now exploring the different possibilities in documentary praxis, and its influence on how we perceive the world, the visible and the invisible. Moreover, he tries to elaborate a non-hierarchical creative space during the filming process and an ethic of dialogue between the film and the spectator. He is currently working on my first feature-length documentary.